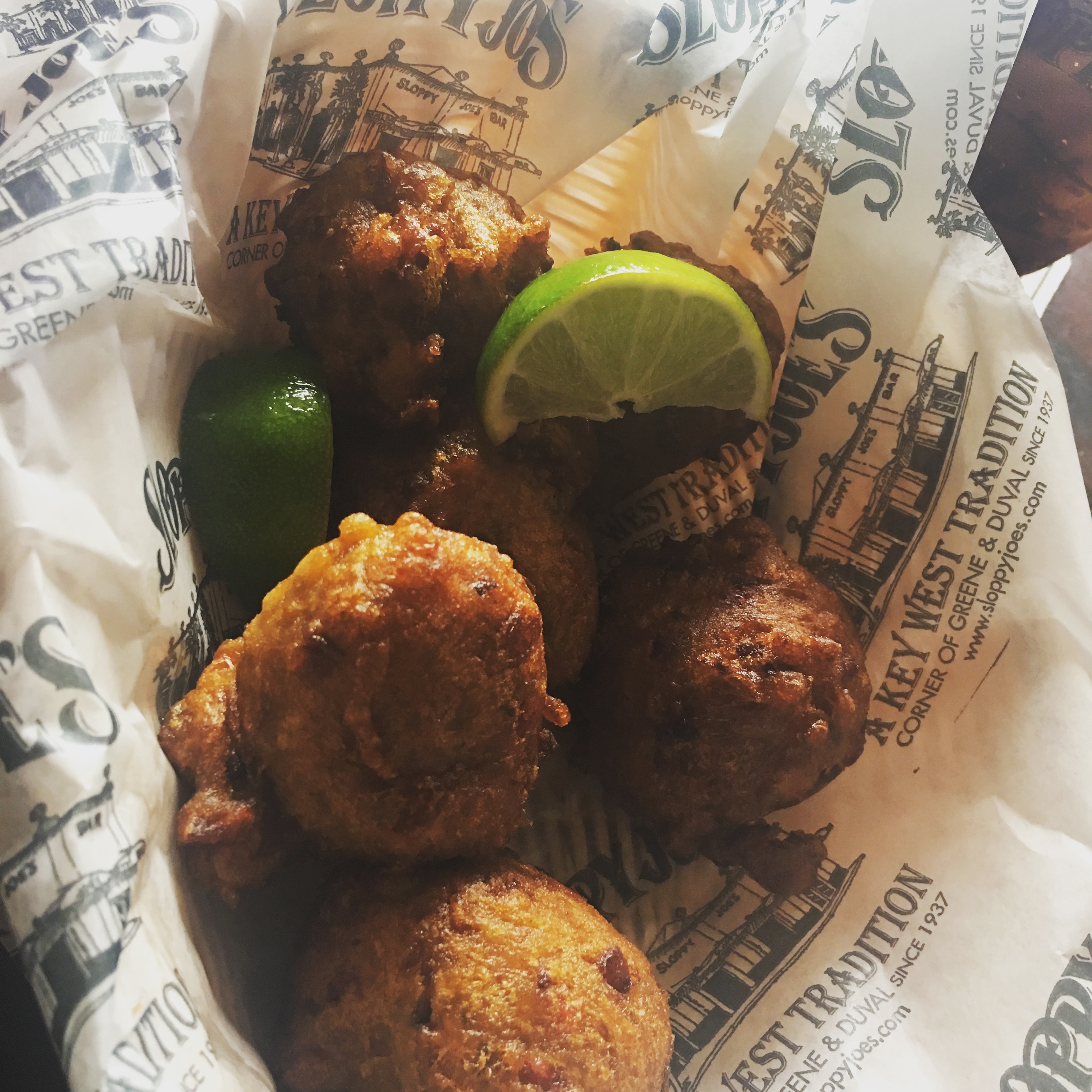 Now that I am in South Florida, I have begun to make some of this areas recipes.  One of my favorite has to be Conch Fritters.  I had them for the first time when I went to Key West about 20 years ago. The picture above are from my last trip down to Key West and I had these beauties at Sloppy Joes.  I hadn't thought about them a lot since then because they aren't real prevalent in restaurants when you get away from Florida's southern coast. When you are in Key West conch fritters are on almost every menu due to their popularity.
For those of you who haven't had them.  They are a mix between a hush puppy and the corn fritters we make.  They have a great chewy meat (the conch) that is reminiscent of a clam.  Most places I have found serve them with a spicy dipping sauce and you will find they disappear off your plate quicker than most appetizers do.  If you get the chance to find fresh conch you should give these a try.  If not and you're visiting south Florida, find them in a restaurant and give them a try.
Ingredients:
1 quart oil for frying
3/4 cup all-purpose flour
1 egg
1/2 cup milk
ground cayenne pepper to taste
seasoned salt to taste
salt and pepper to taste
1 cup chopped conch meat
1/2 onion, chopped
1/2 green bell pepper, chopped
2 stalks celery, chopped
2 cloves garlic, chopped
Dipping Sauce:
2 tablespoons ketchup
2 tablespoons lime juice
1 tablespoon mayonnaise
1 tablespoon hot sauce
salt and pepper to taste
Directions:
Heat the oil in a large pot or deep fryer to 365 degrees.
In a bowl, mix the flour, egg, and milk. Season with cayenne pepper, seasoned salt, salt, and pepper. Mix in the conch meat, onion, bell pepper, celery, and garlic.
Drop the batter by rounded tablespoons into the hot oil, and fry until golden brown. Drain on paper towels.
In a bowl, mix the ketchup, lime juice, mayonnaise, hot sauce, salt, and pepper. Serve dipping sauce on the side with the fritters.
11,199 total views, 0 views today

You may like these recipes too: