Red Wine SunDried Tomato Chicken Pasta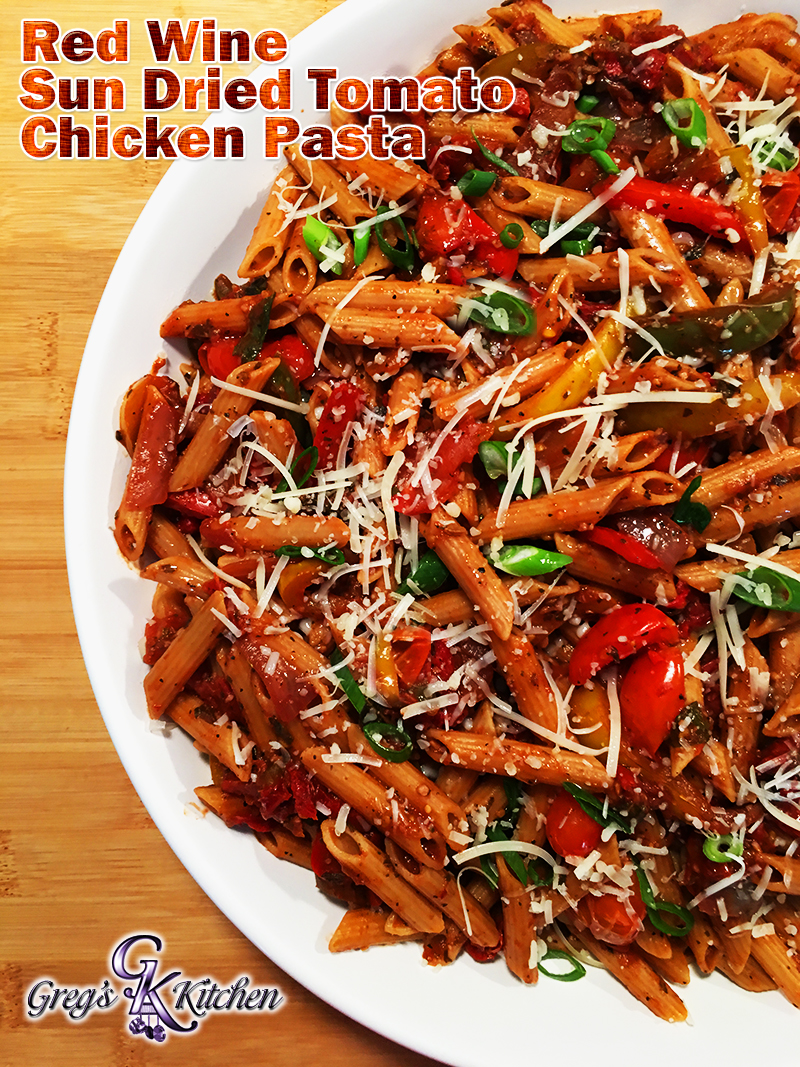 With spring getting closer and closer our farmers markets down here in south Florida are already filled with amazing locally grown produce.  It is just one of those things that I have to do each weekend is to go find great, fresh, locally grown fruits and veggies.    Fortunately there are green markets a couple times a week on weekdays in our south Florida area of Fort Lauderdale as well.
Some of my weekly go to's are of course tomatoes, onions and peppers.   These three fruit and vegetables make an appearance any many of my weekly meals.  This is probably because I grew up with our family gardens and most always found them on our dinner table in one form or another.  Plus, they just have amazing flavors.  I do like tomatoes in many different forms though.  Starting in early spring when they are green.  NOTHING and I mean NOTHING beats fried green tomatoes.  They make a perfect weekend mid day snack or even piled on a juicy cheese burger.  Not that I get either of these to much lately.  Now that I have adjusted my diet to curtail high cholesterol and keep my blood sugar in check I treat myself to these delights only a couple times a year.
But green tomatoes are not my only favorite.  If you want to bring out the natural sweetness of these beautiful fruits, try oven roasting them or even sun dried.  Either of these two methods will reward you with the sweetest, almost candy like, tomatoes ever.  That's where today's dinner came to be.  I found one of the vendors at the farmers market today not only had some amazing cherry tomatoes but sun dried ones as well.  So I grabbed both along with some sweet peppers and moved on through the market.  BTW, the market I go to a lot is an amazing one with not only fresh produce and vegetables but also vendors selling everything from local seafood, cheeses, pasta's, vinegar's and oil's and just about any thing else you can think of when it comes to food.  It's the Yellow Green Farmers Market  in Hollywood, Florida.
So after grabbing some whole wheat pasta and a few other items for meals later in the week I was off to put my new found treasures together and create my Sunday Dinner.
Now if it is still winter weather up there in the north, go ahead and grab what you need from the super market.  But if you have farmers markets open in the area (depending on the time of  year), then definitely go out and support your local farmers and growers.  You'll always taste the difference plus you'll be supporting your neighbors.
So now on to my recipe.  Hope y'all like this one.  Please leave me a comment below and let me know what you think.
2 teaspoons olive oil
2 chicken breasts sliced into 2-3 inch strips
3 sweet peppers (I used one green, yellow & red)
1 medium sweet onion
1 tablespoon fennel seed
1/2 cup fresh basil – rolland chiffinade
6-8 sprigs fresh oregano – striped
2 cloves garlic minced
1 cup red wine
3 tablespoons tomato paste
5-6 oz. sun dried tomatoes (not in oil)
20 oz. grape tomatoes (two store packages)
salt & pepper for seasoning
1 pound dry pasta (I used penne)
Parmigiano-Reggiano cheese to dress
Begin by cutting your chicken, peppers, onions and garlic.  You'll find if you get your "mise en place" done first, your entire cooking time will go so much quicker and easier.
Put your pasta on to cook.  Cook 1 minute short of directions.  It will cook a bit more in the sauce.
add olive oil to very large pan over medium high heat.  Bring to just a simmering temperature.
Add the chicken and season with salt and pepper.  Don't turn chicken for 3-4 minutes.  You want to get some brown on the chicken.  Remember, that's added flavor.
Once chicken is cooked, remove from pan and add the onions and peppers.  Season with salt and pepper and saute until the onions are getting translucent.
Next I moved the onions and peppers to one side of the pan and added the fennel seed to toast for a minute or two.
Now add the basil, oregano, garlic, red wine and tomato paste.  Stir well to mix in the tomato paste and cook until wine is reduced by at least half.
Now make a big circle in middle of pan and add the tomatoes, cover and let cook for 4-5 minutes.  Just until they start to burst.
Here's where I turn to my old fashioned potato masher.  I mash the burst tomatoes to make sure they are all popped and releasing their juices.  Then mix entire contents of pan together and cook an additional 2-3 minutes.
Now using a slotted spoon or spider, scoop the cooked pasta out of the water and put into your sauce.  Never ever strain your pasta.  You are wasting all that wonderful starchy water that you can add to your dish to bring your sauce to the consistency you like.
Once all pasta is added to the pan, adjust taste with salt and pepper and consistency with more pasta water (1 ladle at a time).
Garnish with cut basil, Parmigiano-Reggiano or cut spring onions/chives.
Let me know what y'all think.  I love feedback.
126,987 total views, 0 views today

You may like these recipes too: