Inspirations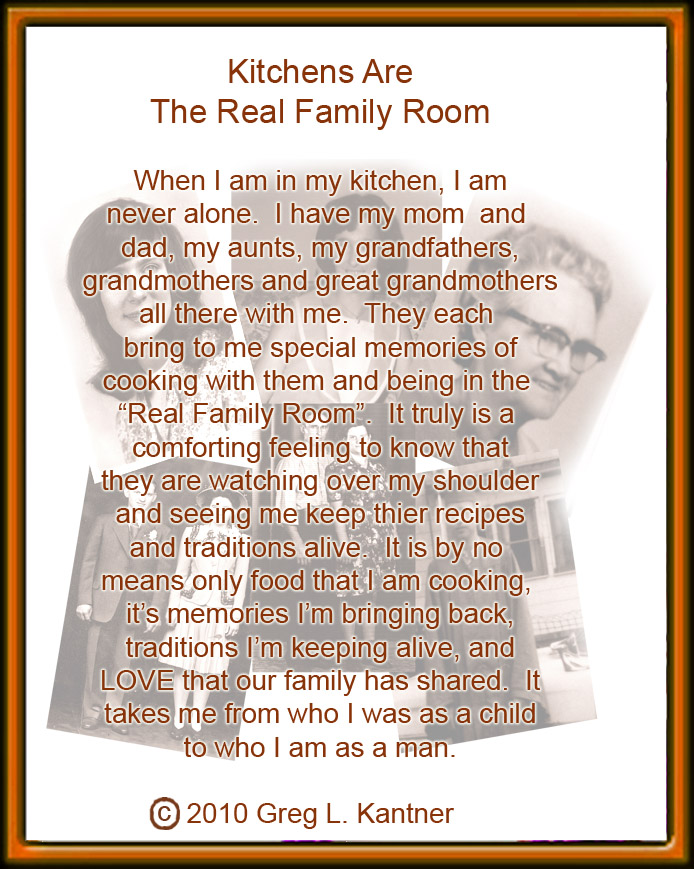 Well if you know me, you know that my inspirations are not only my parents, but especially my aunt Carol, grandparents, and great grandparents.   I was raised in a family where you work.  You don't rely on others to do things you can do yourself.  If you can fix it, cook it, grow it, or make it, then you just do it.
One of my passions in life is cooking.  I was brought up watching my grandmothers, aunt Carol, and mother cooking.  I always felt closest to my family when I was with them and learning to carry on traditions.  Both of my grandfathers were the hardest workers I have ever known.  My grandpa Cecil told me to learn everything I could to take care of myself, because I may never be married and will have to take care of myself.  So I did.  I have to admit, he was my idol.  He was a no nonsense man.  He was a coal miner in Kentucky, a man who always took care of his family, and a man you would never hear make an excuse for anything.  He was the true leader of our family and when he passed away, our family lost the heart of our family.
My grandma's, great grandma's, and yes when I was born I had one great-great-grandma, taught me so much and  I got to learn from all of them some form or type of cooking.  And I learned everything from the simplest down home comfort foods, to full meals for groups of people.  Believe it or not, one of my favorite meals my grandma Cortie makes is just plane ole' cornbread and beans.  I looked forward to it every time we went to her and grandpa's house.  Such a simple thing, but I still make it to this day and it makes me feel so close to her and my family.  It truly takes me back.
Last year I lost my Grandma Jean.  I was fortunate enough to be there with her the day she passed and tell her I love her.  On one of my last visits with her, I asked her  if I could have her recipe box full of her treasures.  That was the best gift she could have ever given to me, and I treasure it now and forever.  I can remember my mom used to say that grandma Jean could make soup out of an old work boot and it would be delicious.  Grandma Jean was a farmers wife who raised 6 boys, and always had food on the table no matter what.  She was remarkable.  I used to love to ride my bicycle out to the "farm" and spend the day in her kitchen with her all weekend.  She always had the best treats and desserts sitting on the counter.  I don't think I ever found her counter with out some home made sweet for all to enjoy.  She held our family together, and was one of the best cooks I ever will know.
I unfortunately did not get to meet my great grandmother on my moms maternal side.  My great grandma Thompson was just as an amazing cook as my other grandmothers I am told.  Also of southern heritage and a not so easy life, she provided for her family and worked hard to do so.  I was blessed this past year to receive from my second cousin Gladys, the paring knife my great grandmother Thompson used.  It is so worn down, and I was afraid to use it.  I finally decided to peel just one potato with it.  I got goose bumps and was brought to tears realizing I was holding the same knife that she used to cook with for her family. My family.  It is now one of my most treasured possessions and holds its place on my knife magnet along side my expensive knife set.
I guess it was about 5 years ago when my mother sent me a copy of my great grandmother's "Memories" which she hand wrote about her life growing up.  She told how growing up that they had to make their own clothes, and I am not talking about buying material at a store and making it.  No, they made clothing out of any kind of material they could find, potato sacks and such.  They grew the food they ate, they bartered with the food they grew or eggs from their chickens to get what they could.  They worked from sun up to sun down, lived in a cabin in the Mountains of Kentucky with walls that the wind, rain, and snow blew through all the time.  Growing up she took care of her siblings, worked in the fields with her father, and did the cooking, sewing and such.  And let me tell you, until the year she died, she was still doing this.  She planted her own garden, canned her own vegetables, and did everything on her own.  I can remember when we went to see mamaw (thats what we had to call her, because she said she was not old enough to be a grandma) in Kentucky, I always looked forward to her breakfasts.  She would make biscuits and gravy, sausage, bacon, ham, fried eggs, fried apples and toast.  That was a normal breakfast for us, and by the time we finished, she was already working on lunch. That lady could cook like nobody's business.  I thought I was in heaven when we got to go to her house.  I loved and treasured her, like I did all my grandmothers.  But she was somehow special to me.  She was the matriarch of our family.  I looked up to her and will never forget her.
Her hard work and life was instilled into my grandpa Cecil, her son, and then to my mom.  I sometimes wonder if anyone could be more like my Great Grandma than my mom.  I can't thank any of them enough for what they instilled into me and made me able to do anything that I put my mind too.
I am the luckiest man in the world for having them in my life.

1 Comment on Inspirations
Comments are closed.