Christmas Memories
Our holiday season usually started a few weeks before Christmas.  Usually on the Friday after Thanksgiving to be exact.  We'd pull the Christmas tree out of its year long hiding place and spend the evening assembling it.  Once the tree was up we got to put on all the beautiful decorations we had collected each year, along with some home made decorations Paula and I had made in school.  Usually about the time it was half done, we would smell cookies baking in the kitchen.  Mom had snuck away as we finished decorating and started a batch of one of her Christmas cookies.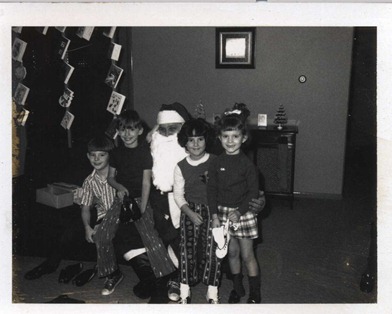 Now the next big thing on my list as a child was to see Santa Clause.  Well in our little town I grew up in, they would put a little 10×10 "Santa House" on the main street downtown, and all the kids in town would go there in the evenings to see Santa.  I can still remember waiting in line in the cold, but it was all worth it once I got inside and there sat the jolly ole elf.
Then we got out of school the week of Christmas and it was the countdown to the big day.  I loved when we got all that beautiful snow and could build a snow man, below is a picture of us with mom and one of my first snow men over.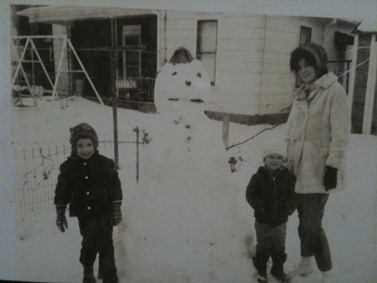 Of course all I wanted to do was open my presents under the tree, but then again, there was all that Christmas candy, cookies, and nut breads too.  It seemed like our kitchen counter was always covered with them for weeks.  One of my favorites was my Great Grandma Blanche's caramels.  Mom and Grandma Jean both used her recipe too, so no matter where we went, there were those yummy caramels.  Mom also made dozens of sugar cookies iced in reds, greens, yellows and blues, along with batch after batch of buckeyes.  Now if you're not from the mid west, you might not know what buckeyes are.  They are delicious sweetened peanut butter, covered in a milk chocolate with just a touch of peanut butter showing to make it look like a Buckeye from the State Of Ohio state tree, the Buckeye Tree of course.  Another cookie mom made was called a Jim Dandy cookie.  It was a fudgy cookie that once baked she would melt a marshmallow on top of and then push a maraschino cherry into the marshmallow and then cover the whole thing with a fudge frosting.  Ok, my teeth are starting to hurt just thinking of that cookie alone.
Then the big day came and we would rush to the Christmas tree to unwrap all of our gifts.  Of course back then that was the highlight of the season, but you know what?  I don't much remember a lot of the gifts we got, but I sure do remember the good food.  Isn't that amazing.  And now those recipes that my mom and grandma and great grandma made are some of my most treasured.  When I make them now, it is like I am back in their kitchens getting under foot and trying to sneak a lick or two of the mixing bowl or beaters.
Once grown, I was fortunate enough to find someone to share my life with who had two little boys of his own that we raised.  Now I got to be the one making the memories.  Guess what, too this day, they will tell you about all good Christmas goodies I made.  Heck, Kyle even remembers helping me make them and to this day loves to cook and wants to be a professional chef.  I hope in a little way, I had something to do with shaping that future for him.  Then came the grandchildren, we are up to 7 so far.  We only got to spend Christmas's in our home with the three oldest girls so far, Nichole, Chloie and Faith.  Below is a picture of Michael with Nichole.
.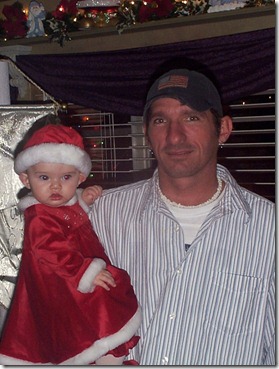 I guess what I am trying to say is, its not the gifts you give that you will remember, but the treasured memories you will make in your kitchens with your family.  I do hope you all have the most glorious Christmas, Hanukkah or whatever holiday that your and yours celebrate.
So from here I will be sharing with you 25 days of Christmas recipes.  Maybe I'll throw in a special gift and do more than one in a single day.  I hope you enjoy them.  Some are family recipes, my recipes, or Christmas recipes from friends or that I find on the internet that I think y'all might like.  I hope this Holiday Season is the best it can be for you and your families.
Click here for my 25 Days of Christmas Recipes