Paula Deen Multi Cooker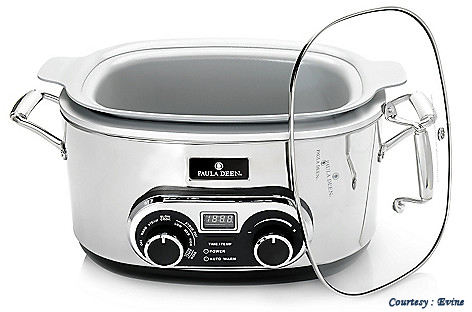 As you all know.  I don't have any advertising on my website.  I didn't do this website to try and make money by having y'all bombarded with ads for product after product.  I do this to share my passion for cooking.  Now I do have many items and products that I swear by.  But don't we all?  I do like to share great things though when I come across them.  So I am going to just put this out there for y'all to decide for yourself's.
I recently was instructed by my friend Paula to buy her multi cooker (buy it here).  (and her Airfryer as well)  She said I wouldn't be disappointed.  Guess what?  I'm NOT.  I am still trying to figure out how it does everything that it does.  I mean, come on.  We all have slow cookers.  Our momma's did.  Our grandmothers did.  Every one loves slow cookers because the are such a time saver in the kitchen.  Well this one does just that.  Oh.  And so much more.  In fact I haven't even used the slow cooker function yet.  It slow cooks, bakes, roasts, deep fries, saute's, steams and keeps food warm.  It has the ability to change cooking temperature and time, and has the easiest controls on a small appliance that I have seen.
So thank you Ms. Paula for the direction.  Such a great product.
I will continue to share all the recipes I do in this multi cooker right here for y'all to try too.  If you have any suggestions or recipe requests, hit me up below in the comments.
(Airfryer recipes here)
Paula Deen Multi Cooker Recipes

3 Comments on Paula Deen Multi Cooker