It's Apple Season.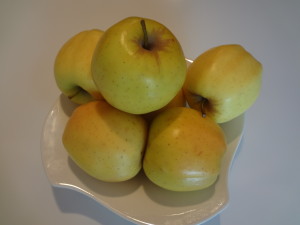 You know what? I just love fall.  Not because I live in Florida and it cools off maybe into the low 80's, but because of the memories I have growing up.  I used to love to go to my grandparents farm and climb in that one special tree out by the road.  It was the Apple tree.
It wasn't that big of a tree of course, but it was my favorite to climb.  And then in the fall, it became my favorite tree again because it produced the apples that my grandma and mom would use to make their signature apple dishes.  Of course I got chased out of that tree a lot by grandma for picking the apples and trying to eat them before they were ripe.
As I have said before, I loved going to the "farm" on the weekends.  I always found cookies or cakes or some other treat on grandmas counter for everyone to enjoy.  Well the fall is when I got to have her apple crisp or fresh apple pies.  Either one of those with a big ole scoop of vanilla ice cream and I was in heaven.  My mom always said my grandma Jean could make soup out of an old boot.  She was just that good of a cook.  But I will admit, one of my favorite deserts she made was her apple crisp.  Even today when I make it, I still can close my eyes and feel like I'm in grandmas kitchen and enjoying it as much as I did watching her make it.
There are just some recipes that I make that can transport me back to grandmas, moms or my aunts kitchen.  I think that might be one of the reasons I love to cook, it keeps me in constant contact with family memories.
So why don't you all go out and get a big ole bushel of apples and make some memories of your own.
Enjoy the fall and the apples.
Mamaw's Dried Apple Stack Cake
Apple Sauce Chocolate Chip Bread
Apple & Cherry Stuffed Pork Loin
Apple & Sausage Stuffed Pork Chops