Paula Deen Air Fryer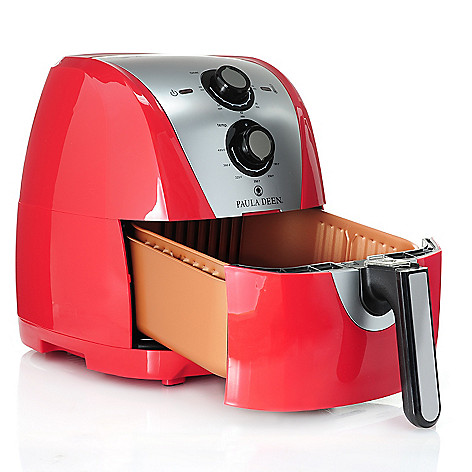 I think this is one of the best appliances I have ever bought.  It might not have become part of my kitchen if it weren't for finding out that I had a bit of trouble with my blood sugar and cholesterol.  Once my doctor gave me the news that I should plan my next heart attack I took it seriously.  It was time to make some changes.  Especially since he told me that he wasn't going to prescribe me any medication.  He said "you're a chef and you know how to cook healthy so do that".  He also said he wanted me to get more exercise.  I was to no longer take the elevator at work to get up those 5 flights.  It was stairs only.  He also said how he knew I went to the farmers market each Thursday.  Yeah, they have a farmers market each week on our campus at U.M.  I LOVE it.  He said though that from then on I had to walk all the way around the campus to get to the farmers market that is right outside of our building.
So I went back to my office and thought about what I had just heard.  I was 3 points from being diabetic and my cholesterol level was sky high.  I was a bit shocked.  Ok, I can do this I said to myself.  And I have.  I am down 25 pounds as of today (3 months from diagnosis) and my numbers are almost all back to normal.   Not one bit of medicine.  Just walking and getting 10,000-13,000 steps per day and developing healthier recipes.  That's how this air fryer method of cooking came about.
I talked with my dear friend Paula Deen about my situation.  She gave me some great advise, as she always does.  She also told me about her new air fryer that was about to be released.  She told me it would change my life.  It, along with me increased exercise, has done just that.  I can not thank her and my Dr. enough for not only the encouragement but also the advice they both have shared with me.
When I thought of air frying I always pictured french fries and maybe some chicken wings.  Was I surprised.  You can make anything in this appliance.  It will replace so many of your current kitchen appliances.  I've done everything from toast to fishes and meats to even desserts and cakes.  It's amazing.  So whether you are looking to eat healthier or just looking for a better and sometimes quicker way of cooking, you have to give air frying a try.  I will continue to develop and share new recipes right here on this page for you all to try.  Y'all know me.  If they aren't great tasting and easy to make you wont' find them here.