Savannah Trip November 2010
I went to Savannah this past weekend for some R & R. Had a great time as usual. We had dinner Saturday night at The Lady and Sons. What can I say, it was wonderful food, and of course I ate way to much. <BR><BR>Here are a few pictures of Paula Deens store that Brandon Branch decorated.  It was just so homey feeling.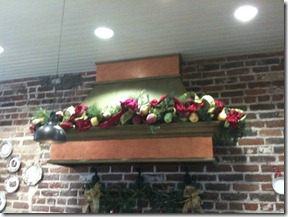 We spent most of the weekend looking at all the beautiful architecture on the homes in the historic district.  I really do believe I need to live in one of those…LOL 
We finished up the weekend having brunch with Brandon Branch (Co-Author with Paula on the book Savannah Style, and her personal assistant) and his partner Jim. Brandon had decorated for Paula's nieces wedding this weekend. He and Jim both said it was beautiful. In fact Jim bragged on what a great job Brandon had done. Obviously you'll understand why once you get a copy of Savannah Style and see the talent he has for yourself.

1 Comment on Savannah Trip November 2010