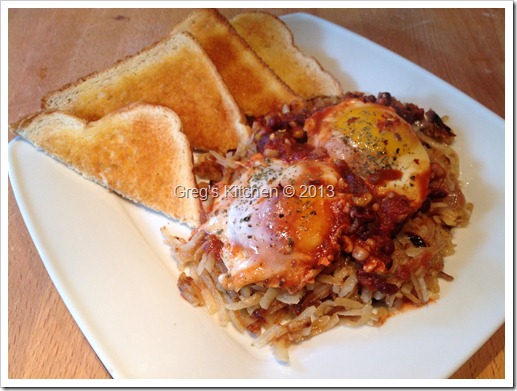 There's no secret that I am addicted to so many of Mario Batali's recipes.  I love that he also likes to add a lot of spice to his dishes.  And the simplicity of his pasta dishes is amazing when you taste how delicious they come out. 
I was crushed when I went to one of my favorite restaurants here in Tampa and found out that Mario had been there just the night before.  Mario had actually cooked at a restaurant called Neil's in Tampa in 1983 and 1984, long before he became the star of cookbooks, the small screen and a half-dozen New York restaurants from Otto to Babbo.  Heck, I wasn't in Tampa then.  In fact I was just starting college up in Ohio, so our paths just keep missing each other.  These days I just turn on "The Chew" each afternoon and get a dose of Mario, along with one of my other favorite Chefs and other Ohio native Michael Simon.  Those two are such a riot together.
So one afternoon I saw Mario make his dish "Eggs in Hell" and was immediately intrigued.  I loved the idea of cooking eggs in a hot tomato sauce.  I knew right then I would be adding this recipe to my breakfast menu very soon.  LOL, well actually that night for dinner. 
Now as y'all know, I follow the philosophy of follow the recipe the first time then start changing it around and make it your own.   So this morning I decided to put a bit of a Mexican twist on the dish and used a jar of my home made black bean salsa dip along with some tomato sauce.  I even made some hash browns to put these beautiful little "hellions" upon.
So here is my Mexican twist on the Great Batali's "Eggs in Hell".
Ingredients:
1/2 tablespoon olive oil
1 small onion diced
1 teaspoon crushed red pepper flakes (or more or less depending on your taste)
2 cups black bean salsa dip
1 cup tomato sauce
1 teaspoon paprika
1 teaspoon cayenne pepper (more or less to your taste)
4 large eggs
1/4 cup fresh grated Parmigiano-Reggiano cheese
In a large sauté pan, heat the olive oil, onion  and red pepper until flakes begin to warm through and their aroma blooms.
Add the paprika and cayenne pepper along with the black bean salsa and tomato sauce into the pan and stir to combine all.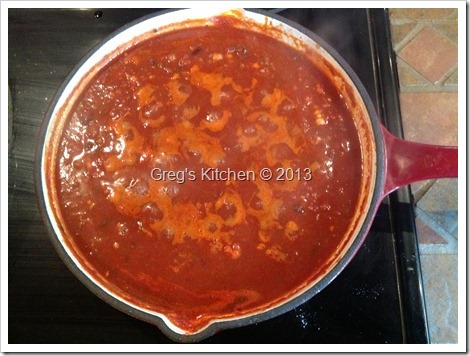 Heat the sauce over medium high heat until hot and bubbly. Now crack the eggs one at a time and slide them into the bubbling sauce.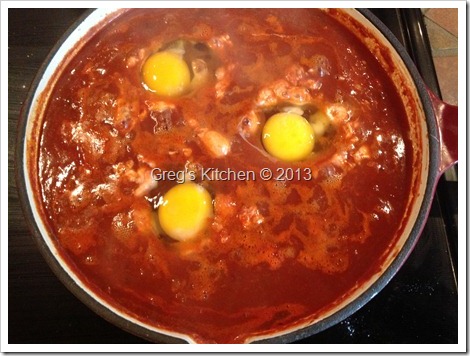 Cover and simmer on low heat for 5-8 minutes or until egg whites are firm and opaque and the yolks are still warm and runny.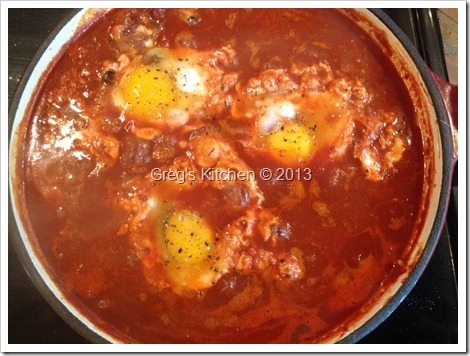 Using a large spoon, carefully scoop two eggs and some of the sauce and place over your hash browns.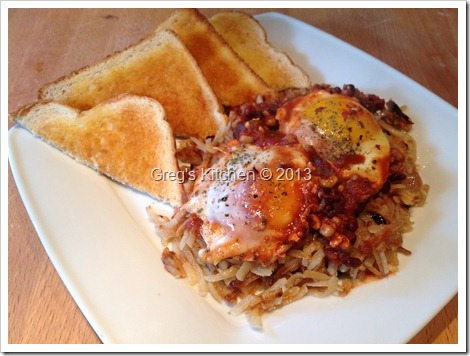 Sprinkle with cheese and serve.
THANKS MARIO
2,250 total views, 0 views today

You may like these recipes too: