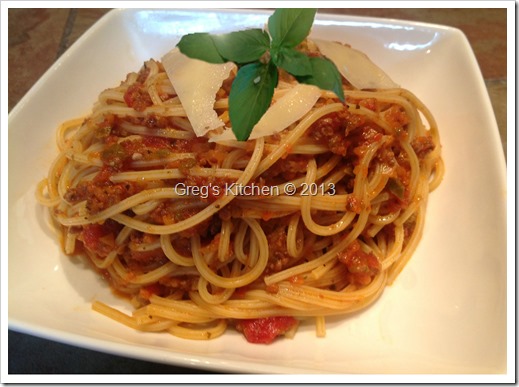 For those of you who think that all tomato sauces for pasta are the same are living under a rock.  There is a big difference between a sauce that meat that's been simply added, and sauce that is patiently prepared by building  layers of flavors that include celery, carrots, garlic and meat, and simmered for hours.  Mine usually goes for at least 2 hours.  Of course you will have to keep adding a bit of water to the sauce as it cooks down for longer periods of time.  Also be patient when your sautéing your veggies and especially the meat.  So many people cook the meat to just done and then add the other ingredients.  You want the meat to actually crisp and caramelize in its own fat.  This builds excellent flavor.
So give my Bolognese sauce a try, and then change it up some with different herbs or meats.  Make it your own and one your family enjoys.  Of course, I believe y'all are going to love mine enough not to change it.
Ingredients:
2 tablespoons extra virgin olive oil
2 carrots – peeled ( I don't peel mine)
2 stalks celery 
2 green peppers
1 clove garlic
1 onion 
1 teaspoon dried oregano
2 teaspoons dried basil
2 teaspoons dried parsley
2 bay leaves
6 ounces tomato paste
2 cans of whole tomatoes (24 ounce cans)
2 cups red wine
1/2 cup half and half (1 cup milk if you don't have half/half)
Rhine of Parmesan cheese (optional)
1 pound ground beef
1 pound ground sausage
water
salt/pepper
In a food processor, combine carrots, celery, peppers, garlic, oregano, basil, parsley and onion and pulse till minced small. Optionally, you could dice these all very small.
In a LARGE deep sided pan add olive oil and heat over medium heat. Add: the carrot/celery/pepper mixture. Sauté over low heat for 20-25 minutes or until completely soft, tender. Stir as necessary.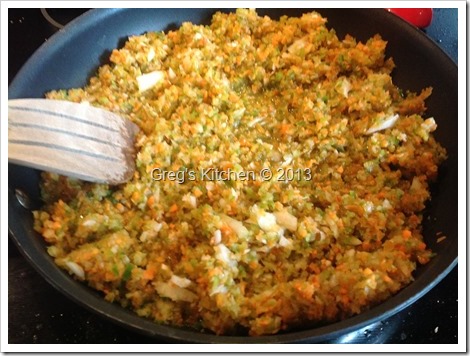 In a large Dutch oven brown the beef and sausage.  Let it cook past the point you might think it is done.  Let it caramelize in its own fat till it is partially crispy.  This is definitely where all the taste is developed.  While cooking,  season with salt and pepper.   Once browned, add tomato paste and allow to brown, this will take approximately 5 minutes.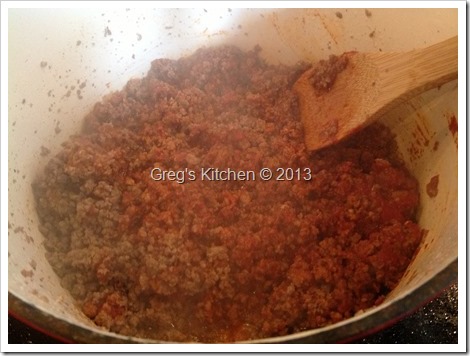 Once brown add wine.  At this point you can scrape all the browned bits off the bottom of the pan.  This is true kitchen gold flavor.  Use a wooden spoon and scrape it all off as the wine begins to boil  Allow to reduce by half.  Taste and season with salt as needed.
Add the tomatoes.  I like to either crush them in my hand as I add them, or in this case I used my stick blender and chopped them.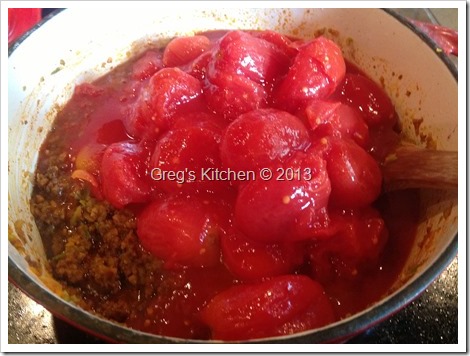 Add the half & half and rhine of the Parmesan and enough water to cover the sauce by 1".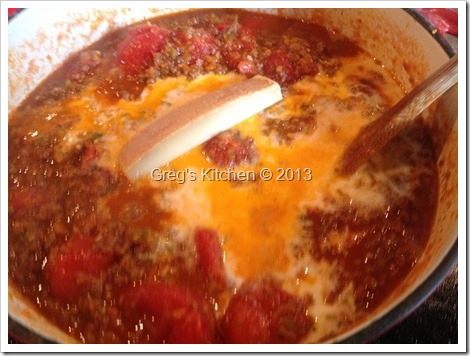 Simmer on LOW. Stirring as necessary. If the liquid levels get low, add more water. Continue cooking and reducing for at least one hour. I will tell you that it is best after 2 to 3 or even more hours.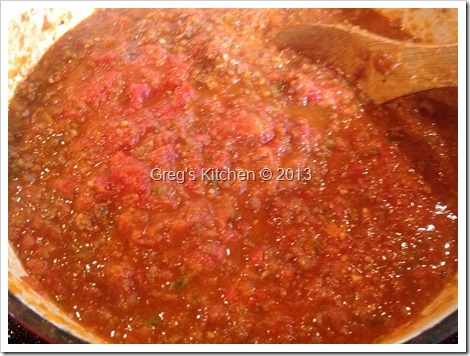 To serve, take the pasta directly from the boiling water and place in the sauce and mix.  The water on the pasta contains a lot of starch and will help thicken the sauce.  Do NOT put oil in the pasta water.  First of all it does NOT keep pasta from sticking together and second, it will keep the sauce from sticking to the pasta.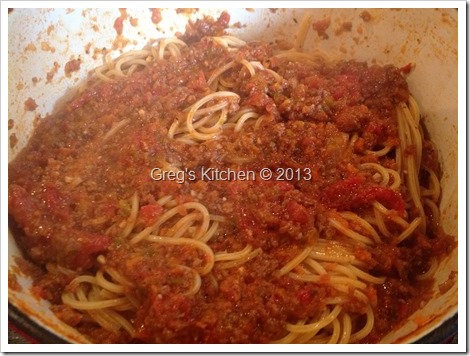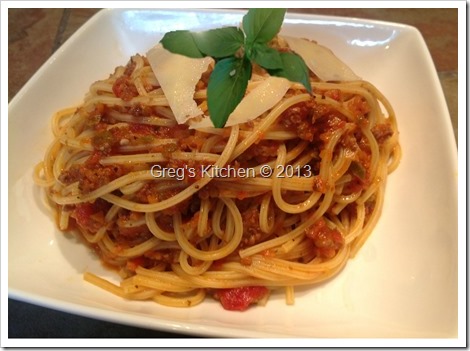 2,151 total views, 0 views today

You may like these recipes too: