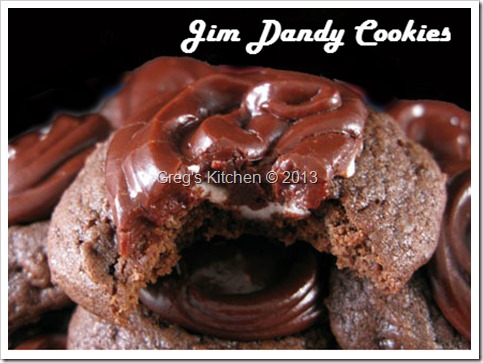 I am sure y'all had your favorite chocolate cookie that your mom or grandma made growing up.  Well this was my favorite fudgy cookie that my mom made.  It was usually a Christmas treat, but she made so many that by the time Christmas was over, we were tired of them again till the next year.  Of course the next year was only a few days away…LOL.
Christmas was always my most favorite time of the year.  Mom went all out with her cooking.  We had cookies, pies, nut breads, candies and all kinds of other goodies.  I just don't know how we didn't all just explode from all the goodies we consumed at the end of the year.  It usually started around Thanksgiving and lasted for more than a month.  I'll tell you what, my moms holiday goodies were the best I have ever had.  I can not compete with hers and I don't' try.  No matter how many of her recipes I make, they never taste quite as good as hers, and I just accept that.  Just makes it all the better when I get to go "home" and she cooks for me.  The years just melt away and I am a little boy sitting in her kitchen licking the pan. Where do the years go?  I can't thank her enough for all she's done not only in the kitchen but our entire lives.  She's the best.
Ok, so back to the cookies.  The surprise of these cookies is that there is marshmallow and a cherry hidden beneath the fudgy topping.  Just a little surprise to those who hadn't had them before.
INGREDIENTS:
1 1/2 c flour
1/2 t soda
1/2 t salt
1/2 c butter at room temperature
2/3 c.  brown. sugar packed
1 egg beaten
1/2 c Marciano cherry juice
2 T. milk
2 squares melted unsweetened chocolate
1/2 cup chopped walnuts
1/2 cup Marciano cherries
18 large halved marshmallows
Stir together flour, soda and salt and set aside.
Mix butter, sugar and egg.  Add in cherry juice and milk.
Blend dry in to wet ingredients and add the melted chocolate and walnuts , mix well.
Drop on ungreased cookie sheet
After cookies done/spring back, remove from oven and place a Marciano cherry on top and cover with a marshmallow half
Inside of cookie
Return to oven for 30 sec to melt marshmallow, just melt, don't brown.
Then frost with Moms Fudge Frosting
Moms Fudge Frosting
In double boiler, cook until thick
1/2 c milk
1/4 c butter
2 squares of unsweetened chocolate
1 t salt
cook and remove then add
1 t vanilla
2 to 2 1/2 cup powder sugar enough to thicken to spread
5,313 total views, 1 views today

You may like these recipes too: