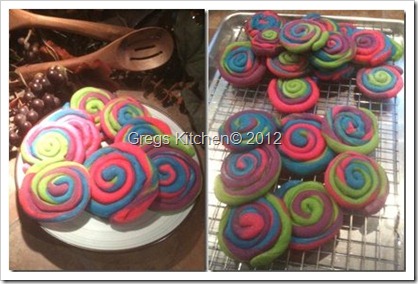 Y'all, if you have little children or grand kids, you're going to love these cookies.  What kid doesn't like playing with Play Dough?  I know I had it growing up, and being a child of the 60's/70's, I got plenty of play dough in moms shag carpeting.  Do y'all remember shag carpet?  We even had a plastic rake to rake it.  Wow, glad I have hard wood floors and tile.  I'll keep my rake for outside.
Well get your kids together, because this is a family project you will ALL love.  I have always said that the kitchen is where family begins.  So get everyone in there and make these fun and yummy cookies.  Just make sure your kids don't make any with their play dough and add to the cookie jar.  That won't be pretty.
Ingredients
3/4 cup butter, softened
3 ounces cream cheese
1 cup white sugar
1 egg
1 teaspoon vanilla extract
2 3/4 cups all-purpose flour
1 teaspoon baking powder
1/4 teaspoon salt
assorted colors of paste food coloring
24 lollipop sticks (if you'd like to make them into lollipops)
Directions
In a bowl cream butter, cream cheese and sugar until fluffy. Add egg and vanilla; beat until smooth.
In a medium bowl combine flour, baking powder and salt. Add dry ingredients to the creamed mixture. Stir till soft dough forms. Divide dough into fourths. Tint each with a different food color. Wrap in plastic wrap and chill for 2 hours.
Preheat oven to 350 degrees F (175 degrees C). Working with half of each color, shape dough into 3/4 inch balls and for each cookie place 1 pink, 1 green, 1 blue and 1 orange ball together to make 1 large ball. Shape into a 12 inch long roll (like a snake), starting at one end, coil roll to make a 2 3/4 inch round cookie. Place cookies 3 inches apart on lightly greased baking sheet. Carefully insert lollipop sticks into bottoms of cookies.  ( I made mine without)
Bake cookies for 8 minutes or until lightly browned. Cool and store in an airtight container.
3,052 total views, 0 views today

You may like these recipes too: