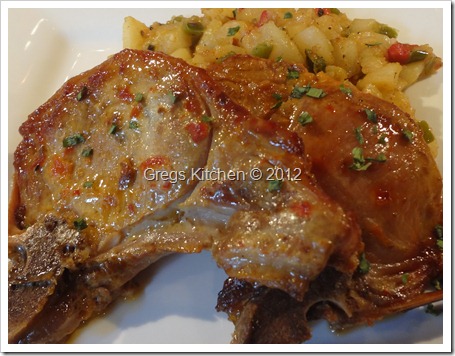 Y'all, I love pork chops.  I guess growing up with a farm in the family, I kind of got used to real fresh meats.  I can still remember going out to Grandpa Norm and Grandma Jeans farm on weekends.  After dinner, grandma always gave me a big bowl of scraps and leftover that wouldn't be eaten and had me go put them in the pigs trough.  There was never anything that went to waste out there on their farm.  What we didn't eat, the animals did. 
So we always had a couple chest freezers full of beef, pork and chicken fresh from the farm.  I laugh at everyone today saying we need to learn to eat organically.  Heck, people my age, with family farms did.  We just called it eating though.
So here's one of my recipes for pork chops.  It is so easy and great to do on the grill, oven or in todays case, slow cooker.  I had to much to do today to grill, so I just pulled out the slow cooker and used one of my moms tips to cooking while doing other things.  Slow Cookers are a wonderful invention.
Ingredients
2 lbs bone-in pork loin chops, about ½ inch think
3 tablespoons honey
4 tablespoons Dijon mustard
½ teaspoon red pepper flakes
1 teaspoon garlic powder
1 cup orange juice
Combine all the ingredients (except chops) in small sauce pan and bring to a simmer.  Stir and cook for about 2 minutes.  Pour about 1/2 of your sauce in a bowl to reserve for dipping or drizzling over chops. 
Bring your grill to medium high heat.  Brush one side of your chops with remaining sauce and place on grill.  Brush the tops of your chops with sauce and cook for about 4 minutes.  Turn chops and coat again with your sauce.  Cook for another 4 minutes and turn/repeat.  Your total cooking time should be about 15-20 minutes.  You do want your pork chops to have an internal temperature of at least 145°F to 150°F.    You should let your chops rest for about 10 minutes, then you can brush some of the reserved sauce onto your chops.  Do not use the sauce you were basting with, it could cause cross contamination.
Alternately, you could do what I did this morning, after mixing the sauce, I placed my chops in my slow cooker and then poured all the sauce over the chops and cooked on high till done.  My house has smelled wonderful all afternoon.  And my belly was quite happy with the end result.  I think y'all will love this recipe. 
1,667 total views, 0 views today

You may like these recipes too: