White Chocolate Bread Pudding with Caramel Sauce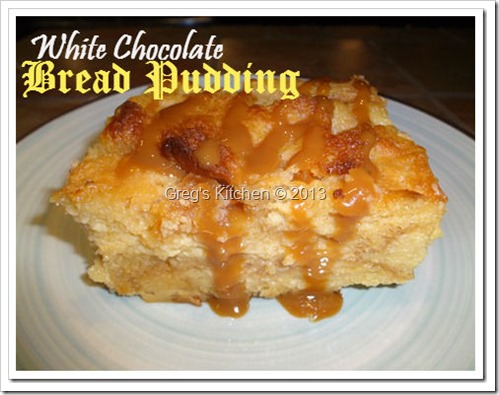 Hey y'all.  I have never been big on bread pudding.  Not sure why, mainly just because of what I have seen on buffets and other dessert menus just did not seem to appealing to me.  Oddly enough, I don't remember it ever being made by any of my family growing up, so I guess it was just not on my radar.
Well that all changed when I decided to tackle this dessert at the request of a friend.  Well, to my amazement, I fell in love with it.  I worked for about an hour on two different custards to pour over the bread till I got just what I liked.
Ingredients
5 C heavy cream
2 C milk
1 can sweetened condensed milk
1 vanilla bean
28 oz. white chocolate, cut into small pieces (approx. 3 1/2 cups) (I used white chocolate chips this time)
4 eggs
2 C egg yolks (approx. 12 eggs)
18 oz. bread preferably 1 to 2 days old
Rum caramel sauce (recipe below)
Preparation
Heat cream, milk, sweetened condensed milk and vanilla bean(scrape seeds from pod and place in milk mixture) over medium heat in a large saucepan. When hot, remove from heat and add 2 1/2 cups of the white chocolate. Stir until melted. Combine eggs and yolks in a large bowl. Slowly add the cream mixture into the eggs, whipping as you pour.
Cut bread into 1/2-inch slices and place in a large bowl. Slowly add the cream mixture into the eggs, whipping as you pour. Pour mixture over bread; press bread to absorb mix and allow bread to become soggy.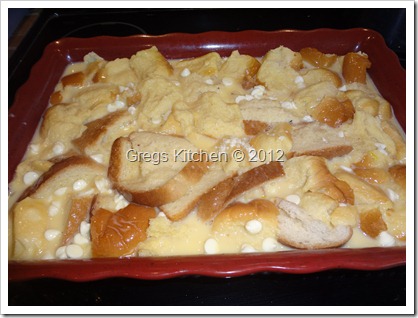 Add the remaining cup of white chocolate and stir (Do NOT let the chocolate melt). Pour mixture evenly in 9" x 13" baking pan and cover with foil. Bake in 350-degree oven for one hour.Remove foil, continue to bake for an additional hour until set and golden brown. Remove from oven and allow it to cool thoroughly before cutting.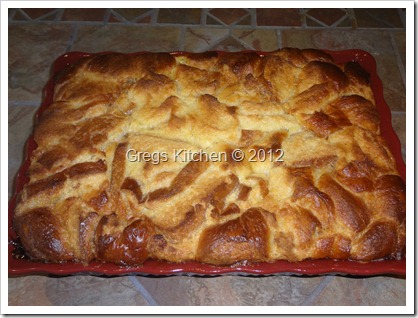 Rum Caramel Sauce
1 cup whipping cream
1 1/2 cups firmly packed brown sugar
1/4 cup butter, melted
2 tbs.'s light or dark rum
1 tsp. vanilla extract
Bring whipping cream to a light boil in large saucepan, over medium heat, stirring often. Add brown sugar and continue to cook for about 5 minutes, or until dissolved and smooth, stirring often. Remove from heat and stir in rum, butter and vanilla. Let cool for about 10 minutes. Ladle over bread pudding. Enjoy!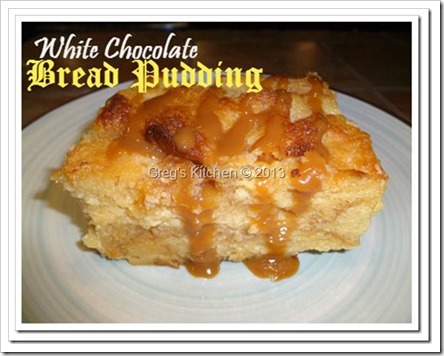 4,623 total views, 0 views today

You may like these recipes too: