Blueberry Swirl Pound Cake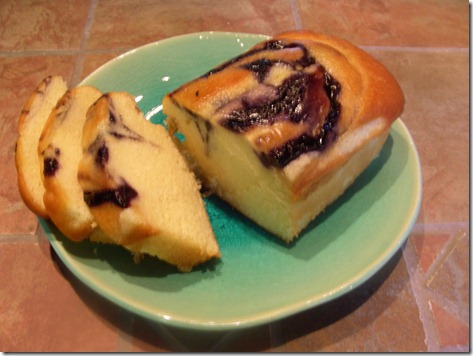 After spending the morning cleaning out my refrigerator and freezer, I found a freezer bag with only a few blueberry's in it.  Now I don't like to waste food, so what could I do with them.  There was not enough for a full recipe, but there is enough to puree and drizzle over the top of a pound cake before baking.  So I broke  out a couple mini loaf pans and got at it.
For the cake we'll need.
1  8oz package cream cheese, softened
3/4 cup unsalted butter, at room temperature
1 1/2 cups sugar
1  teaspoon vanilla extract
4 eggs at room temperature
2 cups all purpose flour
1 1/2 teaspoons baking powder
1 cup frozen blueberries pureed in a food processor with a little honey
Preheat oven to 325 degrees.
Sift together flour and baking powder, set aside.
Cream butter and cream cheese in an electric mixer.
Slowly add the sugar to the butter mixture and continue creaming, add this very slowly. It took me about 10 minutes just to do this.  It will make your cake so much more fluffy and lighter by incorporating all the air into the butter.  The sugar acts like an abrasive, breaking up and whipping the butter till creamy.
Add vanilla extract.
Add eggs one at a time, beating for about one minute each. Scrape down the bowl after each addition.
Slowly add the sifted flour and baking powder. Don't over mix.
Pour into a greased and floured pan, pour blueberry puree over the top of the mixture and swirl into mixture slightly with a butter knife.
Bake for 70-85 minutes, or until tooth pick inserted into the cake comes out clean.
Let cool in the pan for at least 30 minutes before transferring to wire rack to cool completely.
4,154 total views, 0 views today

You may like these recipes too: