Buddha Hand Citron Infused Vodka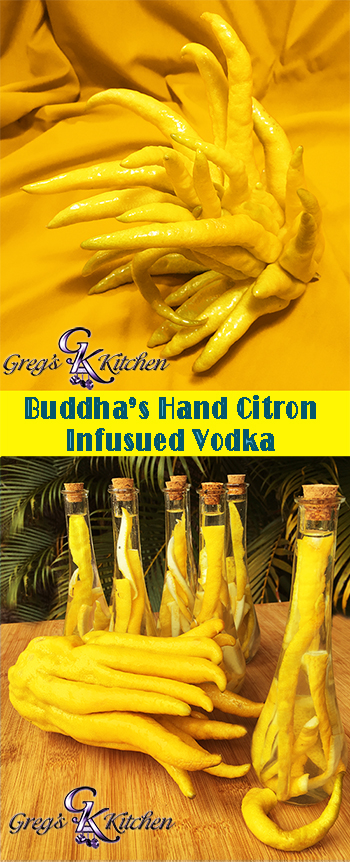 What in the heck is that?  This was my first thought when I was walking through Whole Foods produce department. Right there between some melons and oranges was something I had never seen anything like in all the years I have been cooking.  Believe me.  I search out all the odd and relatively unknown fruits and vegetables I can find.  Especially since I have moved to south Florida.  Here I find all kinds of items used in Hispanic cooking.  From South America, to the Caribbean and beyond.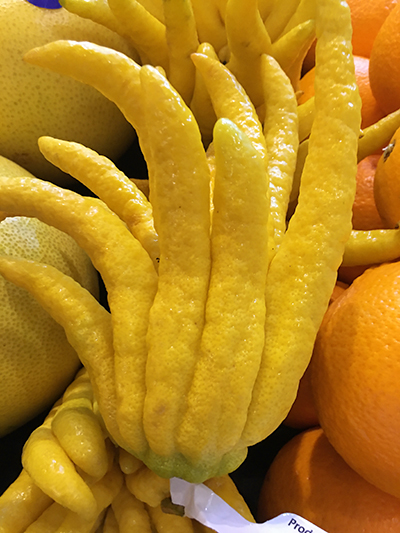 But today I am standing here with this piece of citrus that reminded me of something from the sea.  Taking a quick smell I did realize it might  somehow related to lemons.  Yes, it looks like a lumpy lemon with fingers and smells like heaven.  So I looked around and found a small sign below the fruit that said "Buddha Hand Citron".  Well of course you could now hear me saying into my iPhone…. "Siri, google Buddha Hand Citron"
What came back was a description that "it is an ancestor, the citron, may have been brought to China from India by Buddhist monks and cultivated in ancient China near the Yangtze Valley. In China and Japan, the hybrid, also known as the Fingered Citron, is served around the new year because it is believed to symbolize happiness, wealth and longevity. Historically, the powerful lavender scent also made the plant attractive for ornamental purposes.
Because the fruit has little to no flesh (pulp) and no seeds, like most commercial fruit trees, it must be grafted to propagate. But just because it's a lot of rind doesn't mean you can't enjoy it!  ( From http://www.smithsonianmag.com )"
Ok, so now what am I going to do with this creepy lemon hand.  I immediately remembered that a dear friend of mine had talked about some fabulous Lemoncello's that we are going to be making when we get together at the beach this winter and then again in Key West this summer.  So there's my first recipe.  I am infusing this crazy thing into some Vodka for our citrus drinks.  After talking with her I did find out that she used grain alcohol to make these wonderful treats.  I sent her a picture of my new find and her immediate text back was "what the Sam Hill is that".   Well, I am not changing her recipe idea so I stopped and grabbed a bottle of  Everclear® grain alcohol.  Another stop for some cute bottles to make my infusion, and on to home to begin.  
I am not sure if Everclear® is available where you live, so I am going to do this recipe calling for vodka.  Although I did use the grain alcohol, it is easily clearly replaceable with vodka.  Now you are going to need one or two Buddha Hand Citron's and enough alcohol to fill the jars of your choice.
So what you need to do is cut the fingers from the core of the fruit.
Now slice each finger lengthwise and then cut each piece lengthwise again.
Carve away any excess white pith. No need to get all crazy cutting away the pith.  The pith of this fruit is not really bitter like lemon pith, so it's fine if you have some remaining.
Place as many pieces in the jars of your choice. You could even use one big mason jar.  The more you have in the jar, the quicker it will infuse the vodka or grain alcohol
Now fill the jars with your alcohol and seal.  Place in a cool dark place for at least a week (up to a month) to allow the citron to infuse the liquor.  Give it a shake every couple days to help with the process.
When ready to use, strain the infusion through a strainer with some cheese cloth or coffee filter.  You want to get out any small pieces that can break down and leave the vodka/grain alcohol with a unsatisfying taste.
Store in refrigerator for up to 2 to 3 months.
13,522 total views, 0 views today

You may like these recipes too: