Oven Fried Buttermilk Chicken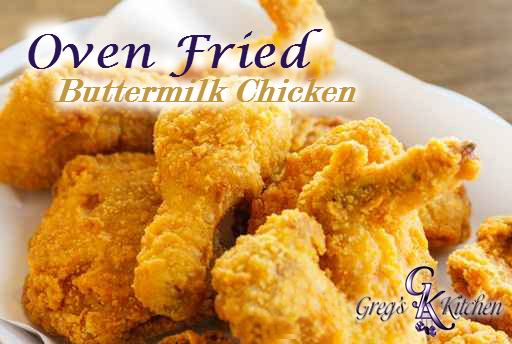 Y'all know that there is nothing better than a hot or cold piece of southern fried chicken.  I remember going into my mamaw's kitchen down in Kentucky in the middle of the afternoon to snatch a cold chicken leg to run outside and eat under the willow tree.  She always put the left over fried chicken in a basket and covered it with a checkered cloth napkin and left it on the kitchen table for us to nibble at all day.
Well I can't eat that fried chicken as much as I'd like to so I had to come up with a healthier version.  This one seems to hit the target right on the mark.  You could even use strips of chicken breast and make oven fried buttermilk tenders for your kids too.
Give this one a try and see if it can substitute the fried chicken on your families next Sunday Dinner Table.
Ingredients
1 cup buttermilk
4 Tbsp hot sauce (this won't add heat, only taste)
1 whole chicken cut up into 8-10 pieces (you can remove skin if you like)
1½ cups panko bread crumbs (makes it crispier than regular bread crumbs)
2 teaspoons AP flour
1½ tsp dried minced onion or 1 tsp onion powder
1½ tsp garlic powder
1/2 tsp ginger
2 tsp black pepper
1 tsp paprika
Instructions
Combine buttermilk, hot sauce, and chicken in a container or gallon size (airtight) zip top  bag and marinate it in the refrigerator for at least 1 hour. (2 hours is best)
Preheat oven to 400 F.
Line your  baking sheet with aluminum foil.
Give the aluminum foil a light spray of cooking spray.
Combine all remaining dry ingredients in another bowl or zip top  bag.
Transfer a couple pieces of the  marinated chicken  to the bag with the dry ingredients & shake until chicken is evenly coated. Place breaded chicken on aluminum foil lined baking sheet. Repeat with remaining  chicken pieces.
Bake chicken for 30-40 minutes or until juices run clear. Turn the chicken pieces over ½ way through the cooking time to crisp on both sides, or you can do what I do and place chicken on a cooling rack placed on baking sheet.  This allows the heated air to circulate around entire piece of chicken.
270,778 total views, 0 views today

You may like these recipes too: