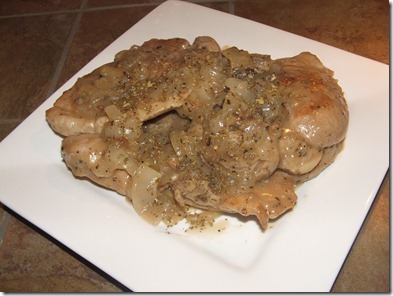 Y'all, I love pork.  I loved it before it was the other white meat.  Growing up, we always had plenty of beef and pork in moms "deep freeze" out in the garage.  We had a freezer dedicated to meat and one to veggies and other items.   It's great growing up with farms in the family.  You are always guaranteed plenty of food year round.
Mom always used to use our slow cooker a lot.  She worked full time but that never stopped her from making sure there was a great dinner on the table.  One of the things she used to make was cheesy scalloped potatoes with pork chops on top, cooked all day long in the crock pot.  I loved opening the front door after coming home from school and smelling that wonderful smell radiating from the kitchen.  Those pork chops would literally fall apart as you tried to take them from the slow cooker.
Today I decided to make a little change and make some smothered pork chops.   I still let them cook for about an hour on the stove, so I did in a way, follow in moms footsteps.
Ingredients:
4-6 pork chops
4 tablespoons olive oil
1 cup chicken stock
2 medium onions halved & sliced
2 tablespoons flour
ground black pepper
8 oz. white  button mushrooms
2 bay leaves
In a large cast iron skillet or Dutch oven heat 2 tbls. olive oil.  Sauté the pork chops till just browned on each side.  Remove to plate and cover to keep warm.
Add remaining olive oil to pan along with onions  Sauté the onions and mushrooms for about 2 minutes, till just softened.  Whisk in the flour until smooth. Cook, whisking frequently, until mixture is light brown, about the color of peanut butter, about 5 minutes. Whisk in chicken broth in slow, steady stream;  increase heat to medium-high and bring to boil, stirring occasionally.
Return chops to skillet in single layer, covering chops with onions and mushrooms, add bay leaves. Cover, reduce heat to low, and simmer until pork is tender , about 45 minutes.
Transfer chops to warmed serving platter and tent with foil. Increase heat to medium-high and simmer sauce rapidly, stirring frequently, until thickened to gravy-like consistency, about 5 minutes. Discard bay leaves, stir in parsley, and adjust seasonings with salt and pepper. Cover chops with sauce, and serve immediately.
1,874 total views, 0 views today

You may like these recipes too: