Well as most of you know, I went up north to see family a couple weeks ago.  Not only to go to my nephew Joshua's wedding, but to also visit with my grandmother who had recently been diagnosed with breast cancer.  To my amazement, grandma had just had surgery the week prior, and she was up and going like nothing had happened.  The good news is she is doing fine and they say the got the cancer and she shows no signs of any other being present.
So of course with her staying at my moms now, I got to spend a whole week with her and mom.  Not only talking about old times, but also doing a little cooking and eating of course.   Mom showed me her pantry, and this time there was something I had never seen in there before.  She had canned green tomatoes for frying.  OMG, now I don't have to wait till spring and early summer, I can have my fried green tomatoes year round.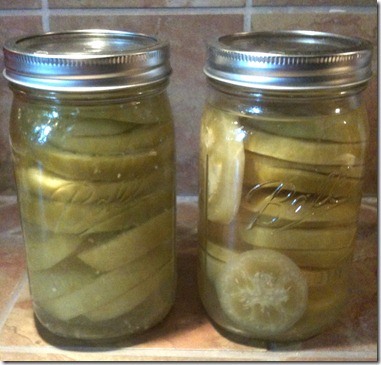 As you know, mom always loads up my truck with boxes of canned goods from her garden, and do you just know that about a dozen of those beautiful fried green tomatoes made it into the boxes as well.  While I was still there, she shared with me another recipe with green tomatoes in the recipe too.  This being Fried Green Tomato Fritters.  She said she got this recipe from our cousin Gladys.  They were wonderful.  I of course brought home the recipe and made a few changes of my own to make them a little more to my liking.  Check them out, I think you'll agree they are very tasty.
2,329 total views, 0 views today

You may like these recipes too: