Fried Green Tomato Fritters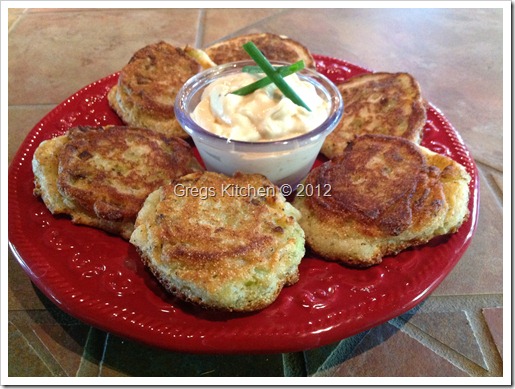 Last summer  I spent a week at my moms house helping her prepare for my nephews wedding.  One night, late after we finished working on flowers for the wedding, mom decided to make us a snack.  She pulled a bag of something from the freezer that looked a lot like  potato cakes.   She said she had gotten this recipe from her our cousin Gladys.   Of course, she changed the recipe some, and when I got home I did the same.  Adding and replacing a few things.  I hope you enjoy this new recipe idea.
I made them with Green Tomatoes that mom had canned for me, check this out too.
I used My Chipotle Dipping Sauce for dipping.
Ingredients:
3-4  green tomatoes, diced
1 large onions, diced
¾  cup cornmeal
1 egg
¼ cup buttermilk
½ tsp red pepper flakes
1 tsp garlic powder
½ to ¾ cup light olive oil
Directions:
With the exception of the oil, combine together all ingredients . Heat oil in a heavy skillet ( I prefer to use cast iron of course) until medium hot. Shape a small amount of the mix into a 3-4 inch patty and place into pan. Cook at medium high for until browned around the edges. Turn and cook and cook the same amount of time on the other side.
I like to make a chipotle dipping sauce for these tasty treats, but they are just as good lightly salted and eaten alone.
Drain on paper towels and serve hot.  By the way, you can make these patties up ahead of time as mom did and freeze them so you can enjoy them year round when you don't have access to fresh green tomatoes.
17,577 total views, 0 views today

You may like these recipes too: