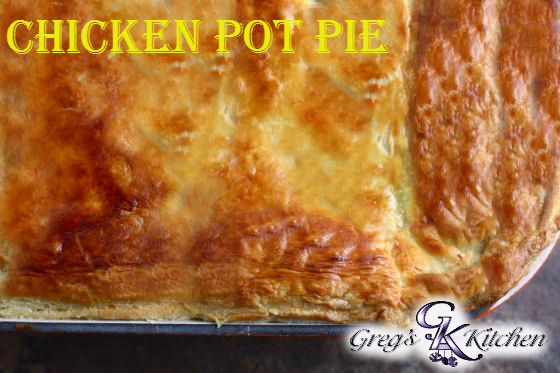 I remember growing up, we had chicken potpies sometimes once a week.  I think the main reason for this was that we had a garden as big as some peoples whole yards.  So we had more fresh vegetables right outside our door, than some have in their local groceries.  Mom liked to make a lot of these delicious pies and freeze them for a quick meal when she was busy working late.  Now I am sure most of you have had the frozen grocery store types, but ours was made with the freshest vegetables and moms flaky light crusts.  The crust was so flaky and buttery, and then as you broke through that pastry and hit the steamy chicken vegetable mixture below, well you were in pure heaven.  At least to me it was.  I have to thank my mom and my grandma Jean for always making me eat vegetables growing up.  Now they are almost always my favorite part of the meal.  So here's my version of moms chicken potpie recipe.  I hope you all enjoy.
Chicken Bacon Pot Pies
5 bacon slices
1 1/2 cups chopped onion
6 large carrots
2 cups fresh trimmed green beans, cut into 1 inch pieces
1 cup fresh spring peas
1 3/4 cups fresh chicken broth
2/3 cup sour cream
3 cups coarsely chopped chicken
1 sheet puff pastry ( yea I know, mom used pie crusts).
Salt and pepper to taste
1/4 cup milk
2 tablespoons corn starch
Preheat oven to 450 degrees F. Cook bacon in large skillet over medium heat until crisp. Reserve drippings in skillet and place bacon on paper towel and drain. Once cooled, chop the bacon into small pieces.
Add onion to skillet and sauté until soft and golden, about 8 minutes. Add carrots, peas and green beans and stir for about 1 minute. Then add the chicken broth and bring to a boil over high heat. Reduce heat to medium high and boil until some liquid is reduced and vegetables are almost tender, about 8 minutes.
Stir 2/3 cup sour cream, chicken, and bacon.
Now stir together the milk and corn starch and pour into mixture to thicken.  Season with salt and pepper to taste.
Divide mixture among four 2-cup soufflé dishes or one 9-inch deep-dish pie dish.
Roll out pastry and cut into 4 squares (or one large for 9-inch pie dish). Top each soufflé dish with pastry and fold edges down onto rims of dishes. Brush the top of the crust, careful not to brush edges, with milk or egg. Cut small X in center of crusts and pierce all over with a fork.
Bake potpies until crusts are golden brown and filling is heated, about 20-25 minutes.
You can also do as mom did, and make extras and pour into small aluminum pans and freeze for later.  They freeze great for up to 3 months.
3,902 total views, 0 views today

You may like these recipes too: