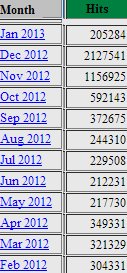 I'd like to wish y'all a Happy 2013.  I am so blessed to have all of you who follow my blog and facebook page.  I was amazed in November to have over 1.1 million hits  here on my blog, but now I see in December I had over 2 million.  THANK YOU, THANK YOU, THANK  YOU.
Please let me know what all you might like to see added here or recipes you would like or can't find.  I'll be glad to set y'all up with whatever you ask for.
Again, Happy New Year and keep your family together, cooking in the kitchen.
703 total views, 0 views today

You may like these recipes too: