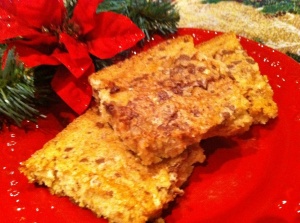 Y'all,  I discovered Blondie's by accident one night at Applebee's Restaurant.  They had a hot "Blondie" with a scoop of ice cream and then a maple sauce drizzled all over it.  Now I know I was probably eating thousands of calories, but I couldn't help myself.  I made it a point to go there just for this.  It didn't matter what I had for a main course, because in all actuality, I was only there for dessert.
I decided I could make these myself, and after attempting many different recipes, I was making them one night and saw a bag of English Toffee bits laying in my cabinet.  Yupp, on went the light bulb and I added them to my batter.  I am sure I am not the first to do this, and with a little Googling, I found out other light bulbs came on before mine, but hey for a few seconds I thought I was a genius.  Oh well, this was the beginning of a new love of mine.  So get out your mixer and the following ingredients, and join me in my love of English Toffee Blondie's.
Ingredients:
3 eggs
3/4 cup light brown sugar
1 3/4 cup white corn syrup
1 teaspoon vanilla
2 cups flour
1/2 teaspoon salt
1 cup English Toffee bits (Heath bar bits)
In a bowl, mix together the flour and salt, and set aside.
In stand mixer bowl or large bowl, mix the 3 eggs, brown sugar and corn syrup.  Add vanilla.
Slowly add the flour mixture into the egg mixture till just mixed.
Add 3/4 of your English toffee bits to the mixture and pour into a prepared 9×12 pan.
Top with remaining English toffee bits.
Bake 25-30 minutes in a 350 degree oven.
Let fully cool before cutting.
2,519 total views, 0 views today

You may like these recipes too: