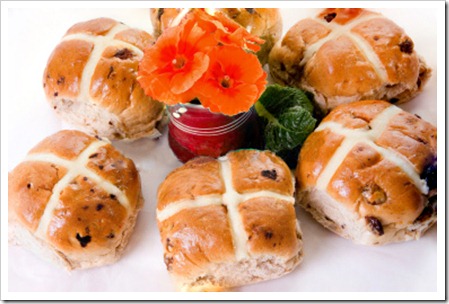 INGREDIENTS
Sponge
1/2 cup milk
2 1/2 teaspoons active dry yeast
1/2 cup all-purpose flour
Dough
1  2/3 cups  all-purpose flour
1/3 cup sugar
1/2 teaspoon salt
1/4 teaspoon ground cinnamon
1/4 teaspoon ground cloves
1/4 teaspoon ground nutmeg
1/4 teaspoon ground ginger
4 tablespoons unsalted butter , softened, cut into 10 pieces
1 large egg
2/3 cup raisins, currants or candied fruit
Glaze
2 tablespoons sugar
1 tablespoon water
Icing
2/3 cup powdered sugar
2 teaspoons water
STEPS
Line 1 cookie sheet with parchment paper or coat with butter or spray.
Heat the milk in a small saucepan until it is just lukewarm, no more than 110°, then pour the warm milk into a medium bowl and whisk in the yeast.
Stir in the flour and cover the bowl with plastic wrap. Let the sponge ferment until it is bubbly, about 15-20 minutes.
Once the sponge is ready, prepare the dough: combine flour, sugar, salt, and spices in a bowl of your electric stand mixer and stir well to mix.
Place on the stand mixer with the paddle attachment and add the butter.
Mix until the butter is worked in well.(about 2 minutes.)
Remove the bowl from the mixer and scrape in the sponge; add the egg and return to the mixer with the paddle.
Mix on lowest speed for 2 minutes; stop mixer and allow dough to rest for 10 minutes.
Mix the dough again on medium speed until it is smooth and elastic, about 2 minutes.
Decrease speed to lowest and add the currants or raisins and candied fruit; mix until they are evenly distributed throughout the dough.
Scrape the dough into a buttered bowl and turn the dough over so that the top is buttered.
Cover the bowl with plastic wrap and let dough rise until it is doubled in size, about 1 hour.
Turn the risen dough out onto a lightly floured work surface and press it into a rough square; divided the dough into 12 equal pieces with a knife or bench scraper.
Round each piece by pressing it under the palm of your hand as you rotate your hand around the dough.
Arrange the buns on the prepared pan and press a cross into the top of each bun with the back of a blade of a table knife.
Cover the pan with a towel or buttered plastic wrap and allow the buns to rise until they are almost doubled, about 45 minutes.
About 15 minute before the buns are completely risen, set a rack in the middle of the oven and preheat oven to 375°.
Bake the buns until they are deep golden and feel light, about 15-20 minutes.
Just before the buns are finished baking, bring the sugar and water for the glaze to a boil; brush the glaze on the buns as soon as they come out of the oven.
Remove buns from pan and put on cooling rack to cool.
Icing:
Combine the powdered sugar and water in a small saucepan and stir well to mix.
Place over low heat, and stir until the icing is just warm to the touch.
Scraped the icing into a paper cone or a small plastic bag and snip the corner.
Pipe a cross on the top of each cooled bun, following the indentation made before baking; let the icing dry for 30 minutes before serving.
2,405 total views, 0 views today

You may like these recipes too: