Roasted Red Pepper Salmon with Southwest Corn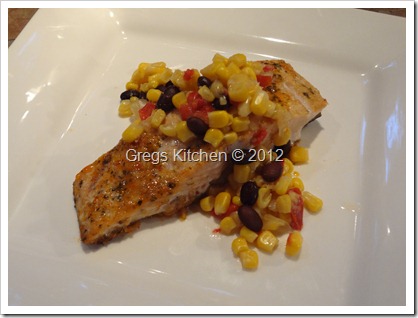 I haven't worked to much lately with savory recipes.  With Thanksgiving and Christmas just passing, most of my days were spent baking cookies, candies, pies and nut breads.  I am totally in the mood for a change.  I tried to go a little different by making a Salmon dish.  Although it is higher in fat than other fish, I do love a nice piece of Salmon.  After looking around the seafood counter, I found a nice piece of Salmon and decided that would be dinner.
Ingredients
For Salmon:
2 Roasted red bell peppers (you can roast or buy jarred)
1/4 CUP olive oil
4 tablespoons honey
1/2 teaspoon smoked paprika
salt and pepper
4 Salmon fillets, about 6 ounces each, scaled but not skinned
Preheat the oven to 425 degrees F.
Puree the peppers in a food processor, and slowly add the olive oil, paprika and honey.  Season with salt and pepper. Pour the mixture into a small saucepan, and gently heat the sauce on low .
Brush pepper glaze over Salmon and  bake for 10 minutes.  Brush remaining pepper glaze over Salmon and return to oven for additional 10 minutes or until lightly flaky.
Just before serving, spoon the southwest corn over Salmon.
For Southwest Corn
1/4 cup butter or margarine
1 cup diced red bell pepper
3 cloves garlic, chopped
5 cups frozen corn, thawed
1/3 cup black beans
1/4 cup chopped green onion
Melt butter in large skillet. Add bell pepper and garlic; cook until tender. Add corn, black beans, red bell peppers, green onions and hot pepper sauce; cover. Cook stirring occasionally for 5 minutes. Season with salt and ground black pepper.
12,076 total views, 0 views today

You may like these recipes too: