Summer Grilled Corn and Zucchini Salad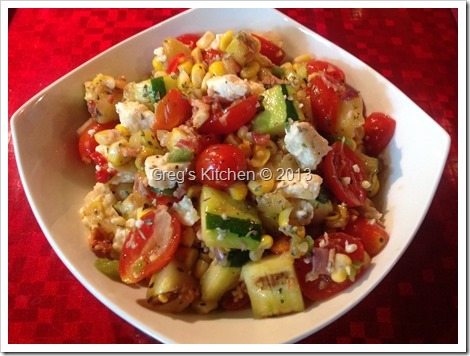 I still love nothing better than fresh vegetables from the garden.  It is wonderful when you can go out to your garden and just grab the ingredients you need and put them all together for a fresh summer salad.  There is ultimately no end to the combinations you can come up with depending on what you have in your garden. 
If you don't have a garden, get out to your local farmers market.  Not only are you going to get the freshest and best tasting fruits and vegetables but you will also be supporting your local economy.  Many time when you buy from road side stands and farmers markets, you are helping put food on those families tables too.  Helping buy their children clothes for school, or putting their children through college, and basically just helping your neighbors survive.  I so much prefer buying local than from big chain supermarkets.  Besides, I am getting what is fresh and in season now in my area.  Not something that has been shipped thousands of miles and was picked while un-ripened and allowed to come to their version of fresh/ripe in a box or warehouse.  Not my idea of fresh.  Ok, off my soap box and on to the recipe.  I hope y'all like this one.
Ingredients:
4-5 cobs of fresh corn
1 large zucchini
2 cups grape tomatoes – halved
1 small sweet onion – diced
1 green pepper – diced
1 red pepper – diced
6 strips bacon – cooked and crumbled
1 tablespoon dried basil
1/2 teaspoon salt
1 teaspoon fresh ground pepper
1/2 teaspoon garlic powder
3 tablespoons olive oil
1 tablespoon balsamic vinegar (optional, I like the tang)
1/2 cup crumbled feta cheese (goat cheese works great too)
Grill the corn till slightly charred on all sides.  Slice the zucchini length wise in 1/2 inch strips.  Grill till just grill marked, don't over grill or you'll have mush.
After corn and zucchini both cool, cut the corn off the cobs and dice the zucchini into 1/2 inch squares and place both in a large bowl.
Add the all remaining ingredients except for the cheese and toss well to mix and coat with oil.
Refrigerate for at least an hour, then add the crumbled feta cheese and serve.
1,095 total views, 0 views today

You may like these recipes too: