Salisbury Steak with Caramelized Onion Gravy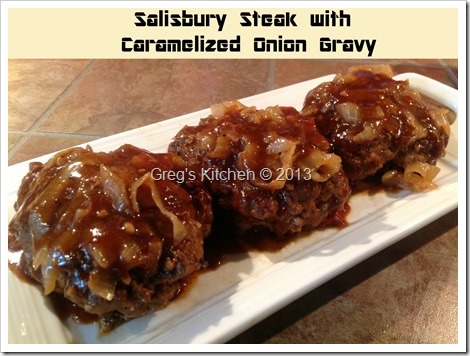 For the Salisbury Steaks
2 tablespoons olive oil
1 1/2 pounds ground chuck
1/2 small white onion diced small
1/2 green pepper diced small
4 cloves garlic minced
1/2 cup dried bread crumbs
2 eggs
2 teaspoons dried oregano
2 tablespoons worstershire sauce
1/2 teaspoon salt
1 teaspoon ground black pepper
2 teaspoons hot sauce (optional)
In small bowl beat eggs, worstershire sauce and hot sauce and set aside.
In large bowl gently crumble ground chuck (don't work meat to much or it will be dry/tough) and then add the onions, peppers, garlic and bread crumbs and mix till just combined by tossing and crumbling.
Add the egg mixture along with the salt, pepper, and hot sauce.  Again, combine well but do not pack hard.
Divide mixture into 6 patties.
Heat olive oil in large pan over medium high heat and brown the meat patties well on both sides.
Remove from pan and set aside loosely covered with foil and make gravy in pan.
For the Caramelized Onion Gravy
2 tablespoons butter
2 large sweet onions
1 tablespoon salt
2 tablespoons sugar
3 cups low sodium beef stock
2 tablespoons worstershire sauce
2 tablespoons flour
1 teaspoon dried oregano
2 garlic cloves minced
2 tablespoons tomato paste
1/2 teaspoon mustard powder
1 teaspoon apple cider vinegar
Cut the onions in half. Lay them cut side down and slice the onions lengthwise to desired thickness. (half moons)
Over medium heat, add the onions along with 2 tablespoons butter to the pan you browned the meat patties in.
Sauté the onions keeping them in as flat a layer on the bottom of pan as possible.  After about 5 minutes add the salt.
Allow to brown well but not burn before turning.  Continue to do this until onions are well browned and caramelized for 20-30 minutes.  Add the sugar and cook another 5 minutes. You may have to add a bit of water every now and then as they caramelize.
Add the beef stock, worstershire sauce, flour, oregano and garlic and bring to boil, mixing well with a whisk to combine flour.  Cook at a boil for 3-4 minutes.
Add the tomato paste, mustard powder and vinegar and combine will.  Reduce heat to medium.
Add the browned meat patties back to the pan and cover.
Cook for 15-20 minutes until meat reaches internal temperature of 160 degrees Fahrenheit.
Serve with onion gravy over top.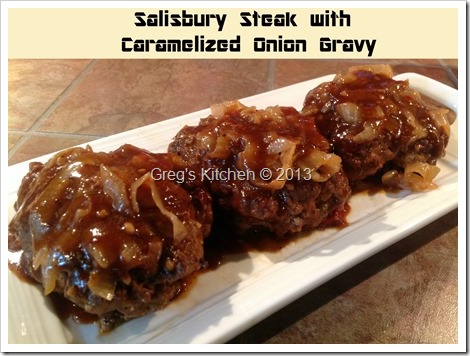 5,305 total views, 0 views today

You may like these recipes too: