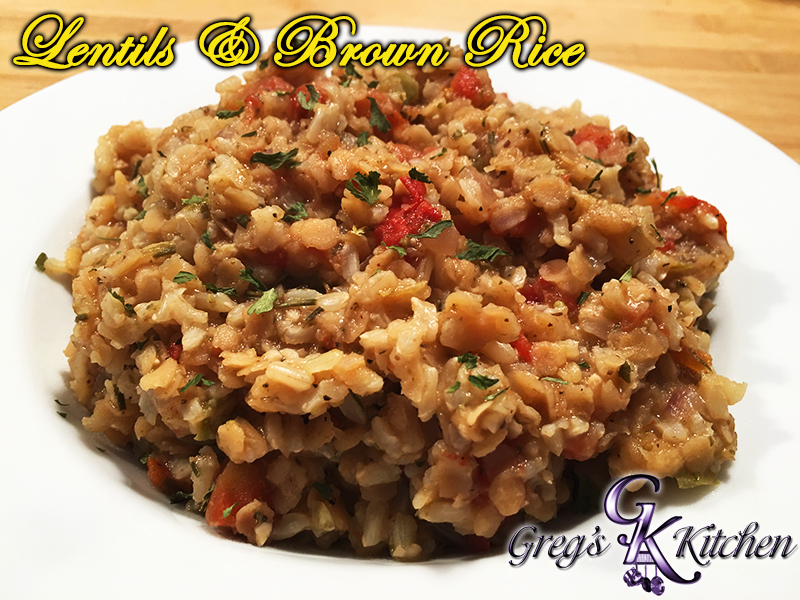 This is a great lower carb*  and heart healthy side dish for anything from chicken to steak.
ingredients:
2 tablespoon olive oil
1 small onion chopped
1 clover garlic minced
1 tablespoon ground coriander
1 tablespoon ground cumin
1/2 tablespoon dried rosemary
1/4 teaspoon crushed red pepper
1 can Rotel tomatoes with green chile peppers
1 cup lentils, dry
1 cup brown rice, dry
5 cup water
1/4 teaspoon salt
directions:
Add olive oil to medium sauce pan over medium high heat

Add the diced onion and cook till translucent.
Add garlic, coriander, cumin, rosemary and red pepper flakes and cook for 1-2 minutes to release flavors.
Now to the pan add tomatoes along with juice, lentils, rice, water and salt.  Bring to rapid boil and then reduce to low and simmer for 50 minutes until lentils and rice are cooked and tender.
Taste and add salt and pepper to taste.
*White rice has about the same amount of total carbohydrates as brown rice, but there's a significant difference in fiber content. One cup of cooked brown rice contains 44.77 grams of total carbohydrates, which is 34 percent of the minimum recommended daily allowance of 130 grams. Brown rice has six times more fiber than white rice. You'll get 3.5 grams of fiber in 1 cup of cooked brown rice, compared to only 0.6 grams in the same portion of white rice. A 1-cup serving of brown rice provides 9 percent of men's and 14 percent of women's daily intake of fiber. The fiber makes a significant difference because it moderates the rate at which carbs are absorbed, contributing to more stable blood sugar levels. (courtesy http://healthyeating.sfgate.com/)
429 total views, 0 views today

You may like these recipes too: