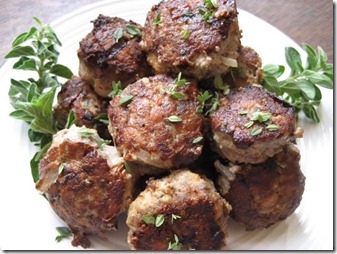 Italian meatball recipe.
  1 lb   ground beef
  1/2 lb ground sausage
  1/2 lb  ground pork
  1 cup freshly grated Pecorino cheese

 

1  1/2 tablespoons chopped flat leaf parsley
3 sprigs fresh rosemary
1 tablespoon dried oregano (or 3 tbs. fresh chopped)
4 teaspoons full whole mustard
2 cloves garlic, finely chopped
2 eggs, beaten
salt and ground black pepper to taste
2 cups  Italian bread, grated into breadcrumbs
1 1/2 cups lukewarm water
1 cup olive oil (if frying)

how to do it.
Pull the leaves from the Rosemary sprigs and chop them finely.

In a large bowl, combine the meats and add the garlic, cheese, parsley, rosemary, oregano, mustard, salt and pepper.
Add the eggs and make sure the everything is well mixed.
Add the breadcrumbs and knead by hand to make sure they are well combined.
Now add some water, a little at a time. . The mixture needs to be wet, but to hold its shape when molded into balls.  You'll need to practice on amount of water.
Using a tablespoon, take a spoonful of the mixture and roll it between your hands to make a smooth ball. Set aside on a baking tray until all the mixture has gone.

 

Heat the olive oil in a large skillet or frying pan. Fry the meatballs in batches. When they're brown and slightly crisp remove from the heat and drain on a paper towel.
If you find your mixture is too wet, cover the meatballs while they're cooking so that they hold their shape better.
4,640 total views, 0 views today

You may like these recipes too: