Smoked Sausage Potatoes Cabbage and Onions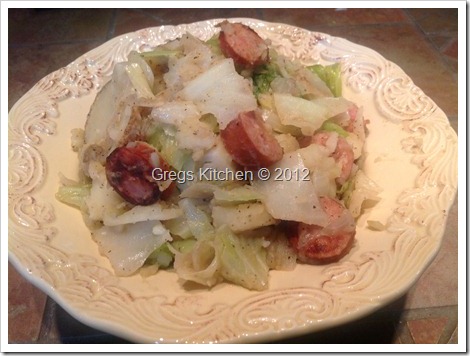 Y'all, I grew up with this dish on an almost weekly basis in the summer.  That's because we always had potatoes, cabbage and onions out the you know what.  Now mom didn't always make it with the sausage.  Most of the time, it was only a side dish to go along with fried pork chops or maybe a roasted chicken.  But when it was to be the whole meal, she threw in the sausage as well.  Now don't worry if y'all think you cooked to much.  It is better the second day as well.  I know you're gonna love this easy, easy recipe.
Enjoy Y'all!!!!!
Ingredients
1 medium onion, chopped
1 clove garlic, crushed (optional)
1 cup water
4 tablespoons butter or margarine
1 ring smoked sausage, sliced
4 large Idaho potatoes, peeled and diced
1 large cabbage, washed, cored, and coarsely shredded
1-2 teaspoons black pepper
1 teaspoon seasoned salt
Preparation Instructions
Sauté the sausage till browned well, remove from pan and add onion and garlic in 2 tablespoons of the margarine or butter until tender. Add water. Layer cabbage, sausage, and potatoes and balance of butter and margarine in the pan. Season with pepper and seasoned salt.
Cover and simmer on low heat until cabbage is desired doneness, stirring occasionally. This should only cook about 20 minutes or the time it takes to make the potatoes tender.
11,208 total views, 0 views today

You may like these recipes too: