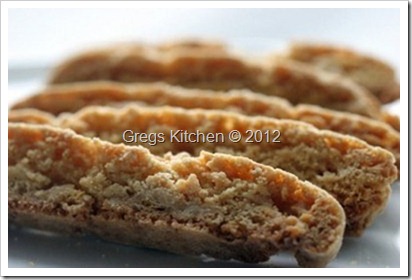 I have to say, one of my new favorite cookies this past year has been Biscotti's.  I have fallen in love with them.  On occasion I like to reduce the second baking and leave them a bit chewy in the center, but the hard crunchy ones are great dunked in my coffee.  If you follow my blog you have seen many different types of biscotti I have made. One of my favorites is my brown sugar and almond biscotti which I consider my Christmas Biscotti.
Well this is a great treat for those looking for a few less carbs and calories.  Unless your like me and can't stop eating them they each have  only 9.7 carbs so you won't crash your blood sugar with one of these sweet treats.  Y'all enjoy.
Ingredients
Canola oil spray
1-1/4 cups unbleached, all purpose flour
1 cup whole-wheat pastry flour
4 tsp. ground ginger
1 tsp. cinnamon
1-1/2 tsp. baking powder
1/4 tsp. allspice
1/4 tsp. salt
2 large eggs
1/3 cup canola oil
1/4 cup unsweetened apple butter or applesauce
1/2 cup packed dark brown sugar
1/2 cup dried cranberries or other chopped dried fruit
Directions
Preheat oven to 325 degrees. Coat a large cookie sheet with oil spray. Set aside.
Mix dry ingredients together in a bowl. Use a food processor or hand mix eggs with oil and apple butter until blended. Blend in the sugar. Add half of the dry mixture and blend until smooth. Add remaining dry (The dough will be soft and sticky but easy to handle.) Transfer dough to a large bowl. Fold in the dried fruit.
Place one-half of the dough at each end of the cookie sheet. With damp hands, form each piece of dough into a log 3 inches wide and about 3/4-inch high. Place logs about 4 inches apart. (Logs will spread during baking.) Bake 25-30 minutes, or until firm to the touch. Remove from oven and cool 10 minutes. (Leave heat on.)
With a serrated knife, cut each log into 1/2-inch cookies cut on the diagonal. Bake 10 minutes. Turn each cookie over and bake 10 more minutes. Turn off heat and leave biscotti in the oven 10 minutes. Remove and cool on a wire rack.

You may like these recipes too: