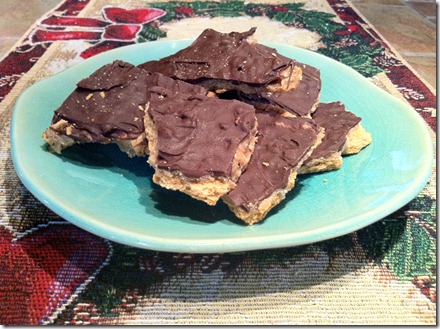 Y'all, it is exactly like the name says.  It is Christmas Crack Candy.  You can not quit eating it. I saw a recipe for it on Pinterest and new I had to make it.  I changed it a little, but not much.  I have made candy before that was good and I snacked on, but I was literally eating every other piece I broke when I made this.  I took it to work and gave it away just to get it out of my house.  You may also want to check out my Peanut Butter Crack Christmas Candy as well.
You can make it with saltines, graham crackers, or even chocolate graham crackers.  I used the graham crackers in this making of the crack. I of course will be making this again before Christmas.  Give it a try and let me know what you think.
Ingredients
About 20 Graham Crackers
1 cup unsalted butter
1 cup packed dark brown sugar
big pinch of Kosher salt
1 teaspoon vanilla extract
1 cup semisweet chocolate chips
1. Preheat your  oven to 350F.  Line a  11×17" baking sheet  with parchment paper or silpat baking sheet.
2. Line up your graham crackers to cover the bottom of your baking sheet, fill in sides with broken crackers.
3. In a large  heavy duty saucepan, melt your butter and brown sugar  and cook over medium heat, stirring, until the butter is melted and the mixture is beginning to boil.  Once it begins to boil, continue boiling for 3 minutes, stirring constantly.  Remove from heat, add the salt and vanilla ( it will bubble up), and pour over graham crackers evenly, spreading with a heatproof spatula if needed.
4. Bake for 12 to 15 minutes. As it bakes, you will see it bubbling  up but make sure it doesn't burn.  If it starts too, remove from oven and reduce the heat to 325F,  then replace the pan.
5. Remove from oven and immediately cover with your chocolate chips. Let stand 5 minutes, then spread with an offset spatula.
Let cool completely, then break into pieces.  It stores well in an airtight container until ready to serve, mine didn't take a big container, as I ate most of it as I broke it up.  It should keep well for about one week, if it lasts that long.
13,683 total views, 0 views today

You may like these recipes too: