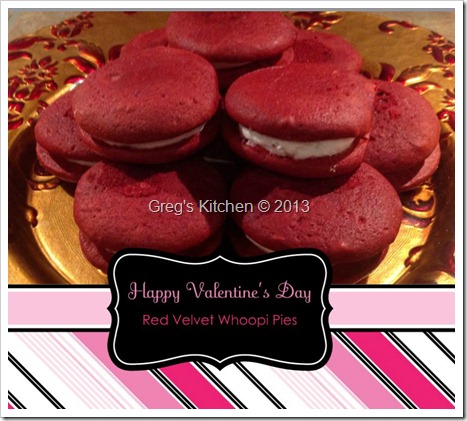 Looking for a wonderful chocolaty sweet Valentines treat?  Well these Red Velvet Whoopi Pies will fill that need.  I have a feeling your valentine will be very happy to receive a box of these along with that chocolate.  Please note that I said "along with", don't forget the chocolates.  You will never hear the end of it.
Ingredients
3 cups all-purpose flour
1/3 cup + 2 tablespoons cocoa powder
1 teaspoon baking powder
½ teaspoon baking soda
½ teaspoon salt
½ cup unsalted butter, at room temperature
½ cup vegetable shortening
½ cup light brown sugar
1 cup granulated sugar
2 eggs
2 teaspoons vanilla
4 teaspoons red food coloring
1 cup buttermilk
For the Filling:
4 ounces cream cheese, at room temperature
4 tablespoons unsalted butter, at room temperature
3½ cups powdered sugar
1 teaspoon vanilla
Directions
For the Cakes:
Preheat oven to 350 F.
Mix the flour, cocoa powder, baking powder, baking soda, and salt in a medium bowl.
With a stand mixer using the paddle attachment combine butter, shortening and the sugars until light and fluffy. Add the eggs one at a time, mix well after each addition. Add vanilla and red food coloring and mix until just blended.
Add half of flour mix and half of buttermilk to batter and beat until just incorporated. Scrape down the sides of the bowl. Add the remaining flour mix and buttermilk and mix until completely combined.
Using a spoon or cookie scoop drop tablespoonful's of batter onto lined cookie sheets – at least 2 inches apart. Bake one sheet at a time for 10 minutes each, or until whoopie cake spring back when lightly pressed. Remove cookie sheet from the oven and let whoopie cakes cool on sheet for about 5 minutes, then transfer to a rack to cool completely.
Filling
Using a stand mixer with the paddle attachment, combine cream cheese and butter on medium speed. (remember they need to be at room temperature) Next add the powdered sugar and beat on low until combined. Add vanilla and increase the speed to medium-high; beat until creamy and smooth.
Spread the filling onto the flat side of one whoopie using a knife of spoon.  Top it with another whoopie cake, flat-side down.  And repeat till all are done.
1,683 total views, 0 views today

You may like these recipes too: