Candied Bacon Pecan Fudgies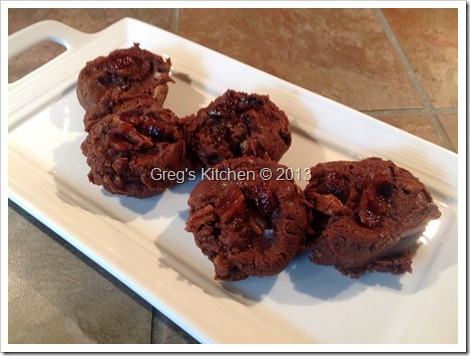 I decided I needed to come up with a recipe utilizing my Candied Bacon.  Since I love chocolate, I chose to make a fudge candy with the bacon and pecans.  I think I hit this one out of the park.  Tell me what y'all think.
Ingredients:
1/2 cup brown sugar
1/2 cup granulated sugar
1/4 cup heavy cream
2 tbsp butter
1/4 tsp salt
3/4 cup toasted pecans, coarsely chopped
1/2 cup semi-sweet chocolate chips
8 full strips candied bacon chopped small in food processor.
READ ALL THE WAY THROUGH.  THIS CANDY RECIPE GOES FAST SO KNOW WHAT YOU NEED TO DO BEFORE YOU NEED TO.  I only know, because I almost missed a step myself.
In a medium saucepan, combine sugar and brown sugar, the cream, the butter, and the salt and bring to boil over medium heat. Stir only until the sugars and butter dissolve.  You can brrush down the sides of the pan with a wet pastry brush to prevent sugar crystals from forming.  Now insert a candy thermometer.
Continue cooking the mixture without stirring until the thermometer reaches exactly 240 degrees.   Once you reach 240 degrees, remove the thermometer and take candy off the heat.  Immediately add the bacon, pecans and chocolate chips.
Now stir the candy vigorously. The chocolate will melt and the candy will start to get thicker. Continue to stir until it starts to hold its shape. Now using a tablespoon (or a small cookie scoop like I used)  quickly begin to drop small spoonful's of the candy onto a baking sheet lined with parchment or wax paper.  Let cool for about 10 minutes and then enjoy.
69,658 total views, 0 views today

You may like these recipes too: