Apple Sauce Chocolate Chip Bread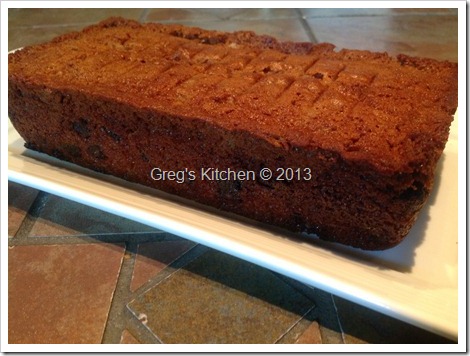 Y'all, this is the most moist bread I have made in some time.  I was trying to utilize the many quarts of applesauce I have in my pantry, and fix the chocolate craving I was having for 2 days.  So I decided to make an apple sauce bread laden with chocolate chips.  OMG, it is so moist and the chocolate adds just the perfect touch.  Not to mention, fixing my craving.  I can't wait to see what else I can use all this apple sauce in.  I think I better stop today though, since I first made Apple Sauce Snicker Doodles.
So, now on to this recipe…let me know what y'all think about this one.  I love your comments and feedback.
Ingredients
1/2 cup unsalted butter, room temperature
1 cup sugar
2 eggs
1 tsp vanilla
2 cups flour, sifted
2 tsp baking soda
1/2 tsp salt
1 Tbsp cocoa powder
1 tsp cinnamon
1 1/2 cups unsweetened applesauce
1 cup raisins
1 cup chocolate chips
Instructions
Preheat oven to 350 F degrees. Grease and flour a 9x5x3 loaf pan.
In the bowl of a stand mixer, cream together the butter and sugar.
Mix in the eggs one at a time. Mix in the vanilla.
Sift together the flour, baking soda, salt cocoa and cinnamon.
In three parts, add the flour. Between each addition, add half the applesauce. Mix only until no more flour is visible.
Fold in the chocolate chips and the raisins.
Separate batter into the prepared pans.
Bake 35-40 minutes or until a toothpick comes out clean from the center.
Cool in the pans 15 minutes before removing to a wire rack to cool completely.
Wrap in plastic wrap and freeze until you're ready to eat it or store it in a ziploc bag or air tight container for up to a week.
5,048 total views, 0 views today

You may like these recipes too: