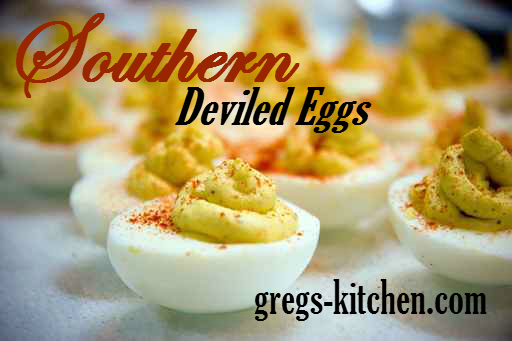 There are probably as many recipes for southern deviled eggs as their are southern kitchens.  We all have our tried and true deviled egg recipe that our family comes to expect and love.  I can hardly remember a single family get together that we weren't all nabbing a deviled egg out from under the plastic wrap before dinner.  My poor mother always had to make extras to refill the plate for dinner.
So give my recipe for deviled eggs a try and let me know what you all think.  Feel free to post below in the comments how you make yours or how you changed mine to make it your own.  Either way, don't forget the deviled eggs at your next family gathering.
Ingredients
6 eggs (hard boiled)
3 tablespoons mayonnaise
1  1/2  teaspoon yellow mustard
1 teaspoon apple cider vinegar
3 tablespoons sweet  relish
salt to taste
pepper to taste
paprika
Instructions
Once you have boiled and peeled the eggs, slice each  in half lengthwise and remove the yolks and place in a small bowl.  Mash the yolks with a fork. Add the mayonnaise, mustard, pickle relish, vinegar and salt and pepper to taste. Mix until well combined.
Use either a  piping bag or a teaspoon to fill each egg white with the yolk mixture.
Dust with paprika to make them pretty.
7,606 total views, 0 views today

You may like these recipes too: