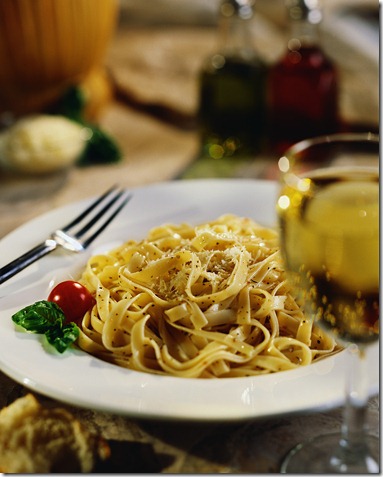 Now as all of you know who have been following me on my website, or have known me for years, I am a southern cook and not Italian.  I have in the past year started making my own pasta.  I do love Italian food and all types of pastas, but this is a dish that I had never tried.  That was until a few weeks ago when one of my best friends posted on face book she was making it.  Now her family is from Sicily, so of course she knows her pasta dishes.   I actually never believed that just some simple pasta, olive oil and eggs could taste to great.
So I decided to make this pasta dish today and see what its all about.  I did add some pancetta to what she says she puts in hers.  Actually, many people commented on her Facebook post with their own versions.  I think next time, I'll use bacon instead of the pancetta.  I know when Jeannette hears that, she will not be happy.  But hey, I have to make it my own.  So give this a try.  I was amazed at how great it turned out.
Ingredients.
1 pound  spaghetti or linguini
2 tablespoons olive oil
8 ounces pancetta, cubed
2 extra large eggs
1 cup freshly grated Parmigiano Reggiano
Freshly ground black pepper
1 handful fresh flat-leaf parsley, chopped
Prepare the sauce while the pasta is cooking to ensure that the spaghetti will be hot and ready when the sauce is finished.
It's very important that the pasta is hot when adding the egg mixture, so that the heat of the pasta cooks the raw eggs in the sauce.
Bring a large pot of salted water to a boil, add the pasta and cook until "al dente". Drain the pasta well, reserving 1/2 cup of the starchy cooking water to use in the sauce if needed.
Beat the eggs and Parmigiano Reggiano  together in a mixing bowl, stirring well to prevent lumps and then add the cracked pepper and pinch of salt. Set aside. Meanwhile, heat the olive oil in a deep skillet over medium heat.   Add the pancetta and sauté for about 3 minutes, until it is crisp and the fat is rendered.
Add the hot, drained spaghetti to the pan and toss for 2 minutes to coat the strands in the bacon fat. Remove the pan from the heat and pour the egg/cheese mixture into the pasta, whisking quickly until the eggs thicken, but do not scramble (this is done off the heat to ensure this does not happen.) Thin out the sauce with a bit of the reserved pasta water, until it reaches desired consistency. Mound the spaghetti into warm serving bowls and garnish with chopped parsley. Add more cheese and pepper to each individuals taste. Enjoy!
1,416 total views, 0 views today

You may like these recipes too: