Blueberry Scones with Lemon Glaze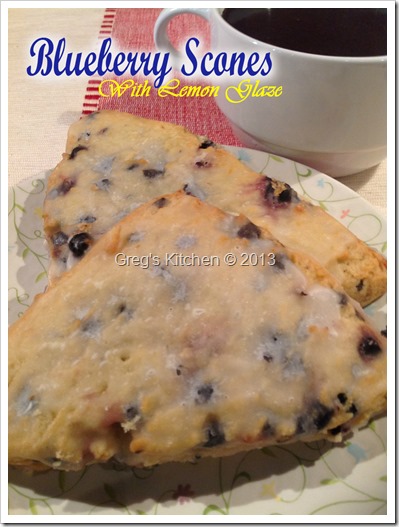 Ingredients
2 cups All- Purpose Flour
1/4 cup of sugar
2 tsp. baking powder
1/2 tsp. baking soda
6 Tbsp. of butter {chilled}, cut into small pea size pieces
1 cup blueberries (frozen if you can't find fresh)
1 cup Greek yogurt
1 egg
In a large bowl, combine the flour, sugar, baking powder and baking soda.
Cut the butter into the flour mixture.
Stir in the blueberries.
In a small bowl, mix together the egg and yogurt until well combined.
Now stir the yogurt mixture into the dry ingredients mixing well.
Dump the dough onto a well floured surface and "knead" 3-4 times.  It is going to be very crumbly.
Pat the dough out into a circle about 1/2 inch thick.
Cut into 10-12 wedges and transfer to a prepared baking sheet.
Bake for 12-14 minutes at 400 degrees until lightly browned
Lemon Glaze:
1/2 cup freshly squeezed lemon juice
2 cups confectioners' sugar, sifted
1 tablespoon unsalted butter
1 lemon, zest finely grated
Mix the lemon juice with the confectioners' until dissolved in a heatproof bowl over a pot of simmering water (home made double boiler)
Whisk in the butter and lemon zest and continue whisking until the glaze is smooth and without any lumps.
Drizzle the glaze over the top of the scones.
Let them sit a minute for the glaze to set before serving.
For more wonderful recipe ideas, check out the Weekend Potluck
2,501 total views, 0 views today

You may like these recipes too: