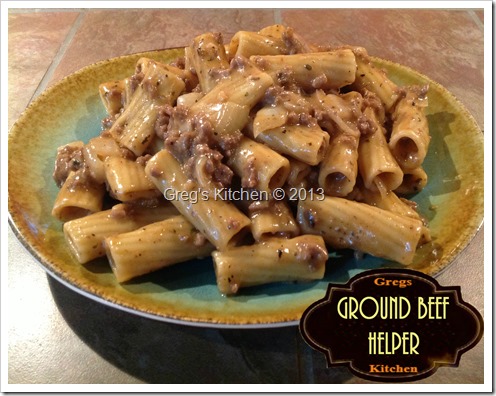 I don't know how many times I have picked up an item at the grocery store and said to myself, "wasn't this a lot bigger before"?  Well as we all  know, everything seems to be shrinking except the prices.  I am still amazed at the price of breakfast cereal and the very noticeable shrinking of the boxes.  I am always on the look out for my Cherrios ® to go on sale.  You know I stock up then.
The other day though I was visiting a friend and noticed these two little bags of pasta laying on her counter.  I do mean "little".  I was trying to figure out what they were when she noticed me eyeing them.  She chuckled and said "I know, you would never make Hamburger Helper ® at your house".  Well I admit that I haven't bought a box of that stuff since the mid 90's when the boys were still in grade school.  They loved the stuff and it was quick and easy so we had it many nights for dinner.  I was young and money was tight so that and spaghetti were quite popular on our table back then.  But that's not why I was eyeing the little bags of pasta.  I was thinking to myself that there was no way that I could have fed all four of us with just one of those meniscal packages of pasta.  My friend said that is why there were two bags laying there.  She has to make two boxes of the stuff to feed her family.  Wow, talk about shrinking products.
So on the way home I had to stop at the market to pick some things up and out of curiosity I searched out and found the "Helper" shelf.  $3.79 a box.  That means she paid $7.58 for about 2 cups of pasta and a couple tablespoons of seasonings (and preservatives).  I turned around and saw a 16 ounce box of pasta for 99¢.  That's about 3 times the amount she got in to boxes of her helper.  I am quite sure she has the seasonings in her cabinet already so there would be no additional cost for those.  Well you know me, I had to see what it would cost to make my own.  Now remember, the cost of the ground beef (I used chuck) is not considered because it would be the same for either my home made recipe or the boxed version.  I do indeed have the seasonings needed so all I had to purchase was the box of pasta and my ground beef.  I decided to grab a can of cream of mushroom soup ($1.19) to add to the recipe as well.  So my grand total for just what was needed including a cup of shredded cheddar (about $1.00) minus the meat was a whopping $3.18. I had everything else needed at home as I am sure most of y'all to as well.  Hmmm….notice that is less than just one box of the "Helper".  So let me ask this.  Why are we making boxed versions of what we can make ourselves?  I didn't have to do any thing different in making this meal that I would have if I used the boxed version. 
So here is my version.  I think y'all will have to agree that it is so much better than the "boxed" one.
Ingredients:
1 1/2 pounds ground chuck
1 large onion – diced (optional, you could use onion powder)
1 can cream of mushroom soup
1 tablespoon chili powder
1 teaspoon garlic powder
2 tablespoons Worcestershire sauce
1 teaspoon salt
1 teaspoon pepper
1 tbsp. corn starch
1 teaspoon sugar
1 cup beef stock
2 cups water
1 16 ounce box pasta (I used rigatoni)
1 cup shredded cheddar cheese
Brown the ground chuck in large pan and drain off any excess fat.
Add the diced onion and sauté until translucent.
Add the soup, chili powder, garlic powder Worcestershire sauce, salt, pepper, corn starch and sugar.  Mix well and cook for about 2 minutes.
Add the beef stock and water and mix.
Add the pasta and cover and cook till pasta is just about tender.
Now add the cheese and stir well and cook for 2-3 more minutes.
ENJOY
5,608 total views, 0 views today

You may like these recipes too: