My Moms Bread and Butter Pickles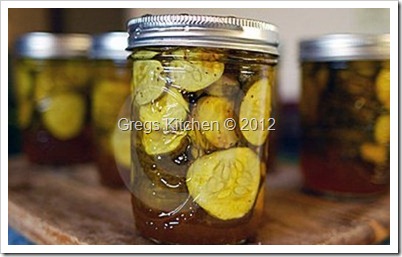 If y'all like sweet pickles, these are for you.  Mom has been making and canning these sweet green gems since I can remember.  I fell in love with them at an early age, and they are still my go to when it comes to topping a burger, or just piling them on my plate to accompany a salad or heck whatever.  They are just that good.
If I were you, I 'd make sure to make plenty of extra jars because they will go fast and your family and friends will be asking for them once they get a taste.  Enjoy y'all.
Ingredients:
4 quarts sliced cucumbers
6 medium sweet white onions
1/3 cup salt
5 cups sugar
1 1/2 tablespoons turmeric
1 1/2 tablespoons celery seed
1 tablespoon mustard seed
3 cups apple cider vinegar
In large bowl combine cucumbers, onions and salt.  Cover with ice and allow to sit for 2 hours.  Drain after 2 hours and divide among clean sterilized pint jars.
Meanwhile, combine in large sauce pan sugar, turmeric, celery seed, mustard seed and vinegar and bring to boil and continue to boil till sugar is dissolved.
Pour sugar/vinegar mixture over the pickles in jar leaving about 1/2 inch headspace. Seal with lid and ring. Cold pack water bath 30-45 minutes, or pressure can for 10 minutes.
1,304 total views, 0 views today

You may like these recipes too: