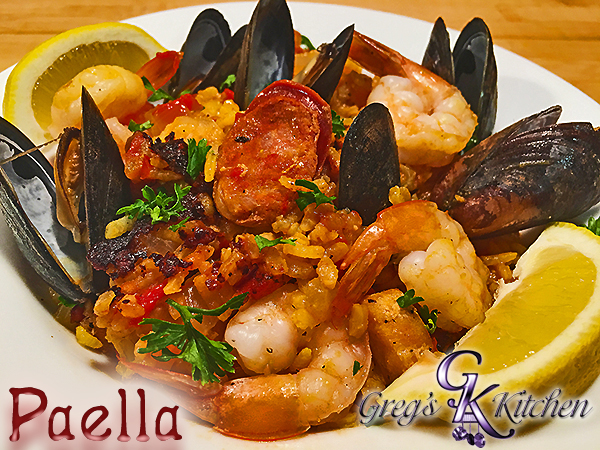 My friend Paula Deen has come out with a new "Multi Cooker" that she said I just had to try.  Initially I looked it up on Evine Live.  This is where you all can buy it if you like.  Well after looking at it on line I didn't see how it would do much more than some of the other "slow cookers" I have.  Well I was wrong.  Lucky for me I was home when she was on Evine demonstrating it.  I saw a few different things she did like searing a roast before slow cooking it.  She also fried home made doughnuts.  Then she baked a fruit cobbler.  Wait.  She has seared, fried, and baked in this amazingly beautiful cooker that looked like no more than a slow cooker.  Ok, I had to get one of these "Multi Cookers" and see for myself what it could do.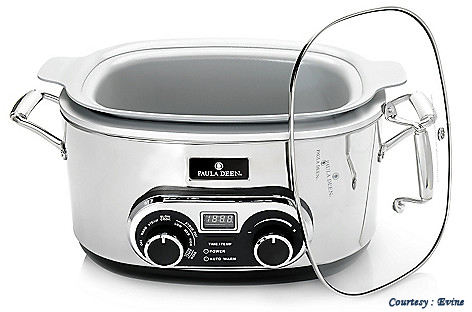 After waiting only 4 days it arrived.  I unpacked it and the first thing I noticed was how nice it was designed.  First off, I could see myself on the side of it.  Not that that is a good thing of course, but it shined like a mirror.  Then I was surprised that the controls on the front were so large and so easy to understand.  And when I pulled the cooking vessel from the box I could not believe how light it was.  I was expecting the weight of a crock in all the slow cookers.  Not at all.  It was so light and designed with large handles on each side.  The entire vessel is ceramic coated and looks amazing.
Well I thought about what I should try first.  It took me a few days to decide.  First I wanted to try something simple like deep frying hushpuppies, or bake a nice apple crisp, or maybe  make a nice stew.  Well after a few days I decided I wanted to put this "Multi Cooker" to a real test and I decided on Paella.  I mean, you have to saute the meats you put in it, plus saute the onions.  Then of course you need to cook the rice.  Not just cook it.  You need to have a nice crusty bottom on the bottom of the rice when it is finished.  This is the step that differentiates it from a normal rice dish and Paella.  If you don't have the crust, you don't have Paella.  Believe me, it adds such an amazing additional layer of taste to the dish.  So I was wondering.  Could this "Multi Cooker" actually deliver?  Could it actually add that crust to the bottom of my Paella?  In one word…. YES.
I started with the chicken and the sausage.  I put the cooker on "stove-high" and added the olive oil and meats.  I immediately heard that familiar sizzle of meat cooking.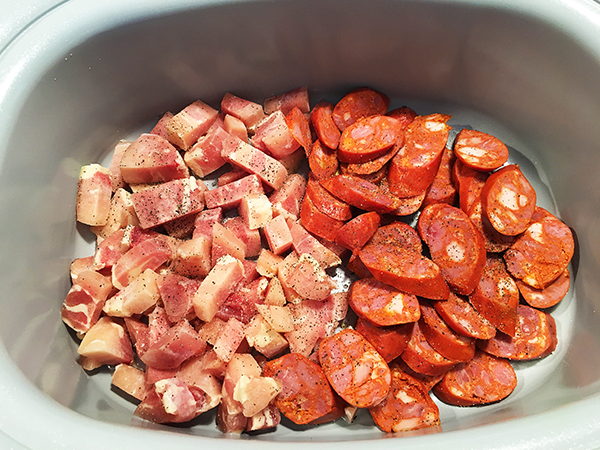 After about 5 minutes I was rewarded with perfectly seared chicken and sausage.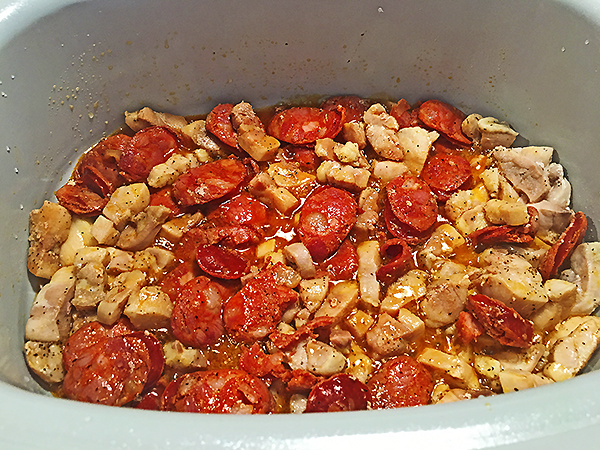 I removed the meat from the cooker and placed in a bowl.  Now here is one of the important steps.  Do NOT remove the beautiful reddish orange colored fat you render from sausage.  It is going to add tremendous flavor to the onions that we are going to saute next.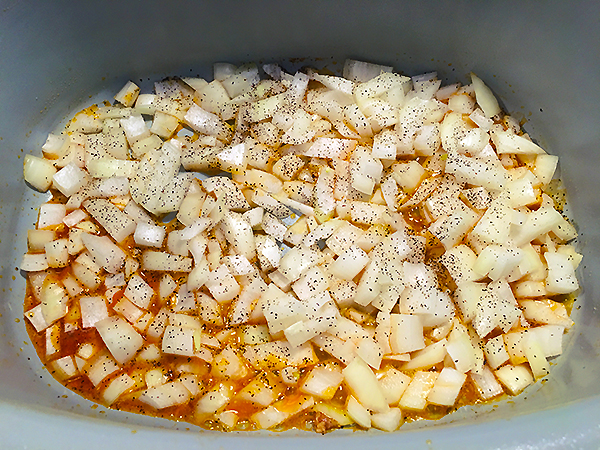 So after adding the onions and sauteing for 3-4 minutes until they are just beginning to tenderize.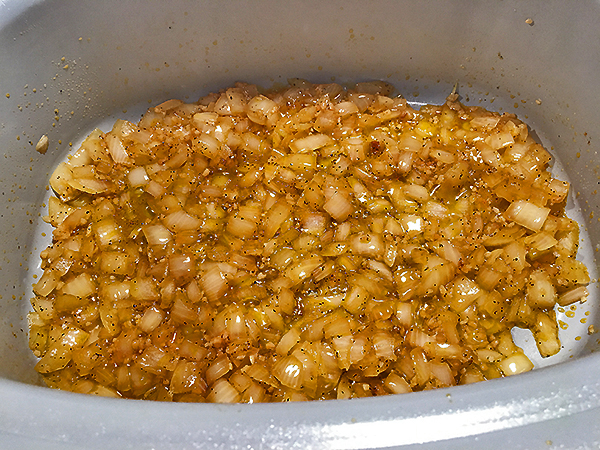 Next I added the tomatoes, garlic and rice and stirred to combine.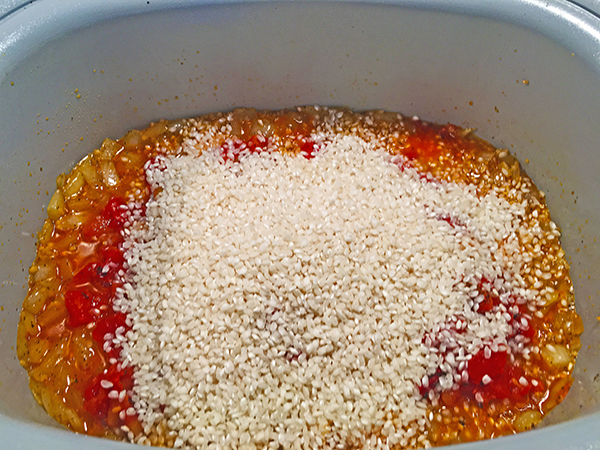 I let it cook for about 5 minutes to get a little toasty-ness (myword, hey it works) on the rice with the cooker still on "stove-high".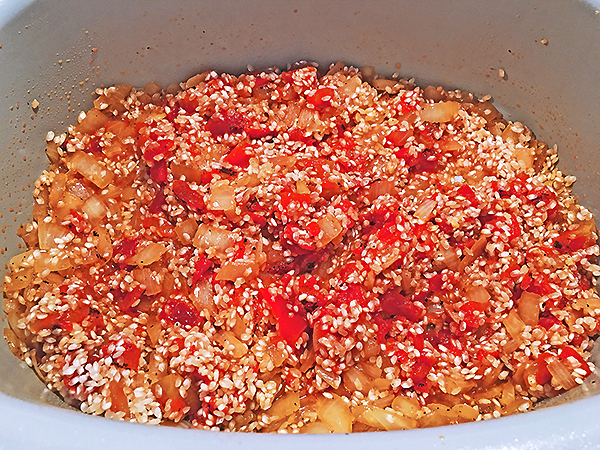 Now I added the chicken broth, hot sauce, paprika, thyme and saffron.  Stirred this all together and let it cook still on "stove-high" for 15 minutes.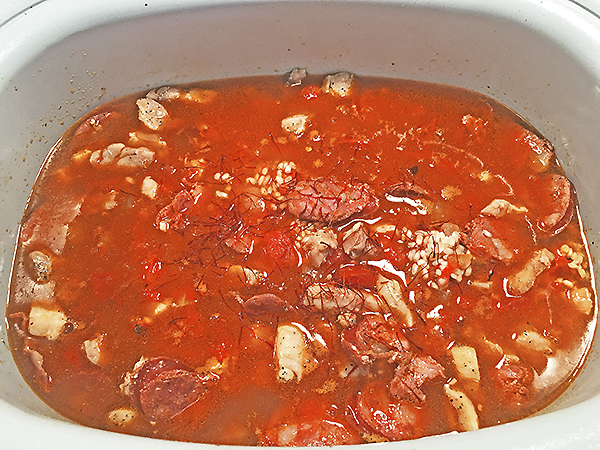 At this point almost all of the broth had been absorbed but the rice is not completely cooked though.  This is normal.  You don't want the rice cooked thoroughly at this point.  So stir it up a bit and move on to my favorite part.  Arrange the red pepper, mussels and shrimp all over the top of the cooked rice and meats.  I mean…come on.  Paella is as much a visual dish as tasty.  Ok.  Well the taste is most important, but you eat with your eyes first. So make it look good.
I am  accustomed to using a very large round pan to make Paella.  So with the limited surface area I took my time and added as much as I could and made it as "pretty" as I could as well.  I was shocked at just how much more I was able to get into the cooker than I thought I'd be able to.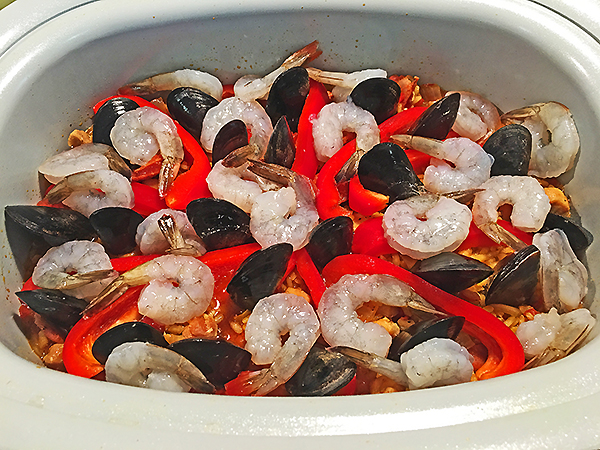 So I popped the lid back on the cooker and reduced the temperature to "stove-medium" and set the timer to 10 minutes.  When I took the lid off the cooker I was happy to see that all my mussels had opened and the shrimp where a beautiful color of pink.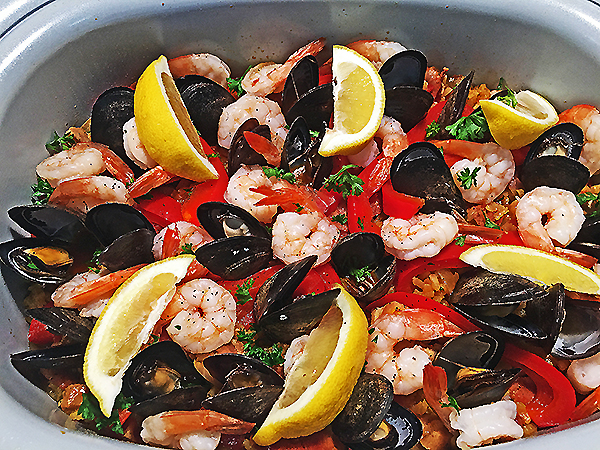 But what about the bottom?  Did I get a crust on the Paella?  I slowly pulled the Paella back with my wooden spoon and was rewarded with a beautiful brown crust  Victory.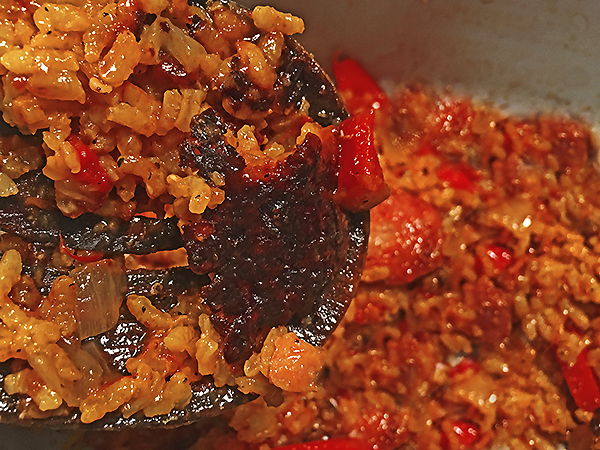 I had made Paella in this one "Multi Cooker" and it turned out beautiful.  Not only visually, but taste as well.  I have to admit.  I went back for seconds and then picked and nibbled on it as I cleaned up afterwards.  OH, and on the clean up.  This cookers cooking vessel virtually wipes clean with a paper towel.  I rinsed it out and wiped with a paper towel and it was spotless.  Not stick, no mess.  A quick run the dish water and rinse, and it looked at good as when I took it out of the box.  All I can say is: Thank you Paula for insisting that I try your "Multi Cooker".  I am more than pleased and will be getting a lot of use out of it.
So here is the recipe that I used.  You can of course make this in a large Paella pan or heavy skillet.  But if you have the opportunity to get one of these "Multi Cookers", y'all should.
Ingredients
2 tbsp olive oil
3 boneless and skinless chicken thighs,  cut into 1 inch pieces
3  sausage links, cut into 1 inch pieces (I used Linguica sausage, it is a Portuguese sausage)
1 large white onion, chopped
5 garlic cloves, minced
1½ cups small grain rice (I used Valencia)
1  14 oz can diced fire roasted tomatoes
4 cups seafood or chicken broth/stock
1 1/2 tbsp hot sauce
2 tsp smoked paprika
2 -3 tablespoons fresh thyme
1 tsp saffron
salt and pepper to taste
1 large red pepper cut in strips
1 lb large shrimp, shelled and deveined but keep tails on
1/2 lb  mussels, scrubbed and soaked (or additionally scallops, clams, octopus or squid)
fresh parsley
2 lemons cut in wedges
Place the "Multi Cooker" on "stove top-high".  Add the olive oil and heat.  Once oil is hot, add the chicken and sausage and saute for 5 minutes.
Remove meat from "Multi Cooker" , place in dish and set aside.  Leave rendered fat in the cooking vessel.
Add the onions and garlic and saute for 3-4 minutes.
Now add the rice and tomatoes.  Cook for 5 minutes to lightly toast the rice.
Add the chicken broth/stock along with the hot sauce, paprika, thyme and saffron.
Add the meats back to the vessel, stir and replace the glass lid and cook for 15 minutes until most of the liquid is absorbed.  Rice will not be completely done yet.
Add the peppers and seafood.  Cover and let cook an additional 1o minutes on "stove top-medium"
At end of 1o minutes seafood should be cooked and rice tender.  Make sure any mussels, scallops or clams are opened.  If not opened, discard as they may not be good.
Serve with fresh parsley and lemon wedges.  Enjoy!!!
Click Here for more recipes in the Multi Cooker.
1,423 total views, 0 views today

You may like these recipes too: