Coconut Pineapple Tres Leche Rum Cake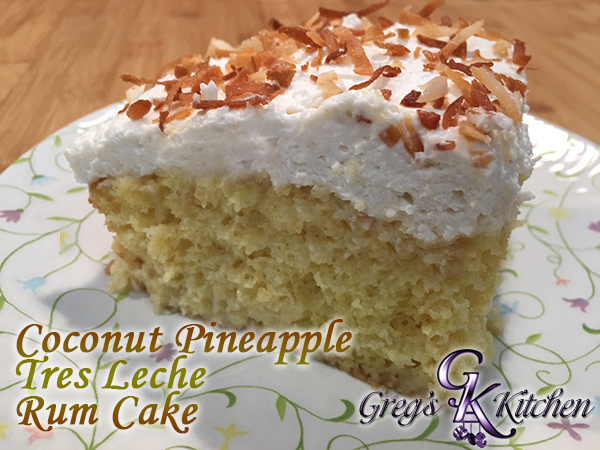 Y'all, I have got a sweet tooth that I sometimes can not please.  I am always craving cookies, cakes and decadent desserts.  I remember growing up I always not only had moms kitchen to find sweet baked goods, but grandma Jeans as well.  To this day I like to keep some sort of baked treat on hand to quench that desire of my sweet tooth.
Today was one of those days when I needed a sweet treat.  I went to the farmers market earlier and saw fresh coconuts and pineapples and that got me to thinking about a cake I made and took down to share with our friends this past summer.  A coconut pineapple tres leche rum cake.  Traditionally it is just a tres leche cake with a whipped cream topping but I needed to bump it up a notch for my special friends so I added the coconut, pineapple and rum.  I have to say that the cake went faster than I thought it would.  I decided I had hit on a great combination and thought I'd recreate it today and share the recipe with you all.
Now for those of you who are not familiar with tres leche cake I will tell you that it is something you just have to try.  Tres leche basically is Spanish for 3 milks.  It is popular in Central and South America, North America and many parts of the Caribbean.  The part I thought was odd the first time I made it was that you mix the milks together and pour all over the cake.  In a short time the cake soaks it all up and you end up with a beyond belief moist (almost dripping) cake.  You can use an assortment of the milks.  Mix and match.  In this cake I used coconut milk, sweetened condensed milk and heavy whipping cream.  But you can use whole milk, evaporated milk and sweetened condensed. Or evaporated milk, sweetened condensed and heavy cream.  Really, any combination you like.
So give this one a try and then mix it up and try some different combinations of milk and even toppings.  I believe this cake will make it into your favorites section of your recipe box and your family's requests more often than you think.
For the cake:
6 3/4 cups cake flour (measure for correct amount, don't guess)
1 teaspoon baking powder
1/2 teaspoon salt
1/2 stick unsalted butter at room temperature
1 cup sugar
5 large eggs at room temperature
1 1/2 teaspoons vanilla
In a large bowl combine the flour, baking powder and salt.  Set aside
In the bowl of your stand mixer and using paddle attachement start on medium low speed creaming the butter.  Add the sugar slowly.  Incorporating it well before adding more.  I like to put in 1-2 tablespoons full at a time.  This will make a creamier batter.
Once all sugar is added, add the eggs one at a time until each is mixed in well.
Add the vanilla and mix.
Now with mixer on LOW (or you'll get a face full of flour, don't ask me how I know, lets just go with it) add your flour mixture a third at a time and make sure each addition is completely mixed in before adding the next.  Don't over mix though or you'll get a tougher cake.
Once mixed pour into a prepared 9×13 cake pan and bake at 35o°F for 28-35 minutes.  Start checking at 28 minutes to assure you don't over cook the cake.  It should have an internal temperature of 200°, or a toothpick should come out clean when you insert into middle of cake.
Let cake cool completely on a cooling rack.
While cake is cooling you can make the tres leche mixture.
Tres Leche glaze:
14 oz can sweetened condensed milk
8 oz of coconut milk (not coconut water, there's a big difference)
1/2 cup heavy cream
1/2 cup dark rum
In a large bowl combine all the milks and rum.  Mix well.
Once cake is cooled use a fork or wooden skewers and poke holes over entire cake.
Now slowly pour your entire tres leche mixture over the cake.  It will soak into and all around the cake.
Place cake in refrigerator for at least 2 hours or even over night to soak up the tres leche mixture.
To top the cake:
1/3 cup toasted sweetened coconut
1/2 cup sweetened coconut
10 oz can of crushed pineapple
2 cups heavy whipping cream
2 tablespoons powdered sugar
1 1/2 teaspoons vanilla
After removing cake from refrigerator cover with the pineapple and then the coconut evenly.
In the bowl of your stand mixer put the whipping cream and powdered sugar and vanilla
Mix on medium until it begins to thicken, then turn up to high until you get stiff peaks.  Be very careful no to over mix or your whipped cream will break and try to turn into butter.
Spread whipped cream over cake and then sprinkle with toasted coconut.
ENJOY
11,118 total views, 1 views today

You may like these recipes too: