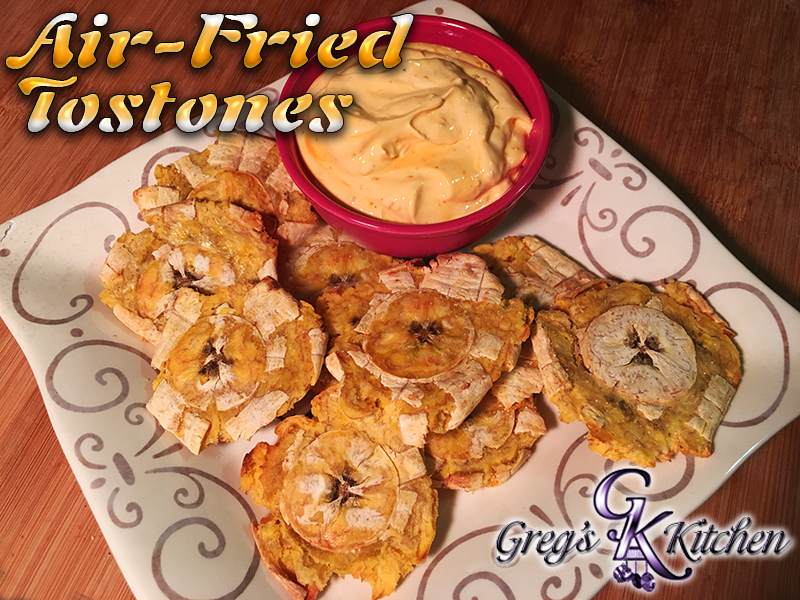 Tostones are a wonderful Hispanic side dish.  Made from plantains, that many people confuse for bananas.  You'll want to use green plantains that have yet to ripen or tostones. Usually  tostones  are sliced and deep  fried for a couple of minutes then taken out of the oil smashed and then deep fried once more. But I am trying to lighten up my diet so I have converted the preparation of them to my Paula Deen Air Fryer.  Believe me when I say that they were just as good done the healthy fry with air as compared to oil.
Of course you can serve your plantains plain with a bit of salt or you can serve with a spicy dipping sauce as well.  Just remember one thing.  If you serve with a dipping sauce with tons of calories, you have kind of negated the reason for air frying your tostones.   But hey, sometimes you just have to have a bit of a treat and from the picture above, you'll see I did just that.  Oooops…
Ingredients:
2 or 3 green plantains
non-stick spray (I use olive oil in a mister bottle)
Preheat fryer to 390°F.
Now peel your plantains.  Now if you have never used plantains before you are in for a surprise.  They do NOT peel like a banana.  They have much firmer peels and sometimes pull a bit of the plantain apart.  So peel carefully.  I like to slice off the ends and then do a small cut down the length of the plantain on both sides to aid in peeling it.  Next slice your plantains. I prefer them to be about 1.5-2 inches thick.  I like them "meatier".  If you cut them to thin you end up almost with plantain chips.  Which are a wonderful treat in themselves but that is not what we are going for here.
Then place them in the pre-heated air fryer for about 5 minutes.  I like to spray then now with a bit of cooking spray/olive oil to crisp them up somewhat.
Remove the plantains after the first air fry and place on cutting board.  Now you get to smash them. Really it is more like mushing them. I use the flat side of a small plate that has a rim to ensure I don't smash to much, but you could use a rolling pin, bottom of glass or pan, etc. Whatever works. Don't hammer them down to hard, just firmly press down once to smash them. After they are all smashed give each side a another light spray of your spray.  Also sprinkle with salt.  Doing this helps the salt to stick better.
Return to the air fryer for about 5 more minutes or until desired brownness.
Salt them again if you like as soon as they come out of the air fryer and serve.
17,033 total views, 0 views today

You may like these recipes too: