Brown Sugar and Almond Biscotti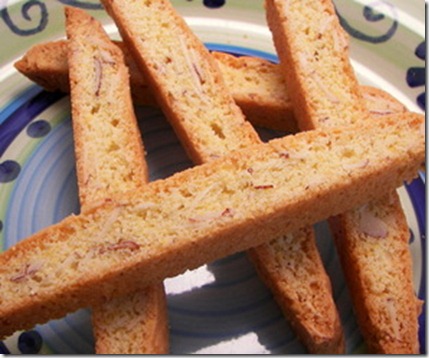 This has quickly become one of my favorite Christmas treats, actually, I love them year round, but it started as a Christmas recipe of my own.  I am starting this seasons Christmas recipes with one of my own instead of my family.  My mom loves these and had me make them for her when I went up in July.  She was calling all her neighbors and friends to come try them.  I ended up making about 6 batches and told her to quit calling people because I couldn't keep up.
So I hope you enjoy this, my first of 25 days of Holiday treats this Christmas Season.
(Makes about 30)
3 1/4 cups all-purpose flour
1 1/4 cups packed light brown sugar
1 cup plus 2 tablespoons granulated sugar
1 1/2 teaspoons baking powder
1 teaspoon salt
3 eggs
1/2 cup (1 stick) unsalted butter, melted
2 teaspoons almond extract
1 teaspoon vanilla extract
1 1/2 cups slivered almonds
Preheat oven to 300 degrees. Whisk flour with brown sugar, granulated sugar, baking powder and salt in a bowl. Combine eggs, butter and extracts in a bowl and whisk until smooth. Stir in almonds. Stir into the flour mixture; mix well.
Knead lightly on a lightly floured surface until mixture forms a dough. Shape into two 4-by-10-inch logs with moistened fingers. Place on baking sheets lined with baking parchment. Bake for 45 minutes or until firm and golden brown.
Reduce oven temperature to 250 degrees. Cool logs on baking sheets for 10 minutes. Remove to a cutting board and remove baking parchment from the baking sheets. Cut logs diagonally into 3/4-inch slices with a serrated knife. Arrange cut side down on baking sheets. Bake for 15 minutes on each side or until dry.
3,460 total views, 0 views today

You may like these recipes too: