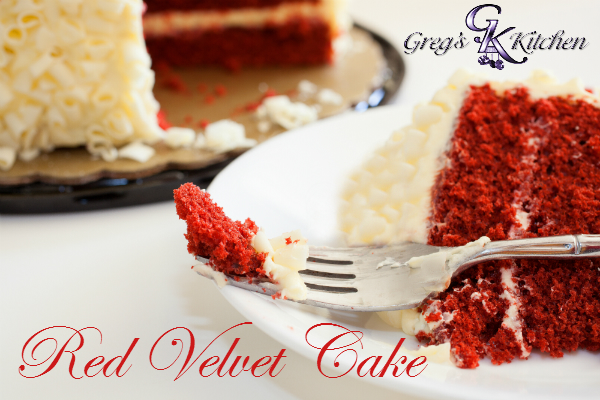 I have to admit.  I did not start eating Red Velvet Cake until I was way into my 30's.  For some explainable reason, my family never made this cake.  I am not sure to this day why not, but I am sure glad I discovered it.
To this date I like to use Paula Deen's recipe for mine.  It always leaves the cake so moist and with just the right amount of chocolate taste.  And the frosting.  OMG, the frosting I could just sit down and eat right out of the bowl.  LOL…I have eaten a few big spoonfuls from time to time.  Note:  I usually leave the pecans out of the recipe, but I left them in the directions below to stay true to Paula's recipe.
So here y'all go.  Mine and Paula Deen's RED VELVET CAKE. (Link to her recipe here)
Ingredients
1 teaspoon vanilla
1 cup buttermilk
1 teaspoon salt
2 1/2 cups cake flour
3 sticks butter, 2 for cake, 1 (softened) for icing
2 oz red food coloring
2 tablespoons cocoa
2 cups sugar
2 eggs
1/2 teaspoon baking soda
1 tablespoon vinegar
1 (16 oz) box confectioner's sugar
1 cup marshmallows, melted
1 cup shredded coconut
1 cup pecans, chopped
1 (8 oz) package cream cheese
Preparation
Preheat oven to 350°. Beat eggs; add sugar. Mix cocoa and food coloring. Add 2 sticks butter and egg mixture; mix well. Sift together flour and salt. Add to creamed mixture alternately with buttermilk. Blend in vanilla. In a small bowl, combine soda and vinegar and add to mixture. Pour into three 8-inch round greased and floured pans. Bake for 20 to 25 minutes, or until tests done.
Icing:
Blend cream cheese and 1 stick softened butter. Add marshmallows and sugar and blend. Fold in coconut and nuts. Spread between layers and on top and sides of cooled cake.
25,631 total views, 1 views today

You may like these recipes too: