Any true southern kitchen has to have at least 3 cake recipes that are traditionally southern.  One is the Red Velvet Cake, another is a Coconut Cake, and last but not least is a Hummingbird Cake. Of course my recipes are not complete without my great aunt Dories and Mamaw Potters  Apple Stack Cake recipe.  I admit, I have made their Stack Cake many more times than I have made any of the other cakes I bake.  I think its because I feel like I am back in my childhood eating their cake.  I am so much a family person, and treasure all my family memories and recipes.
I can hardly remember a time when I would walk into my grandma Jeans kitchen that there wasn't a cake sitting on her counter.  My favorite of grandma Jeans was always her Chocolate Cake .  I have an addiction to chocolate.  So obviously, I do enjoy many different kinds of cake.
I wanted to share this Hummingbird Cake with my friends and co workers, so I decided to make cupcakes out of the recipe instead of a full cake. (and yes Leanne, I won the cupcake bake off)   They turned out wonderful.  So moist and flavorful.  Don't tell anyone, but I ate 3 of them straight out of the oven, without frosting.  I won't admit to how many I ate after frosting them.
Y'all, I hope your enjoy these cupcakes, and if you want to make into a cake, just divide the batter equally into 3 cake pans and I think you all can figure out the rest.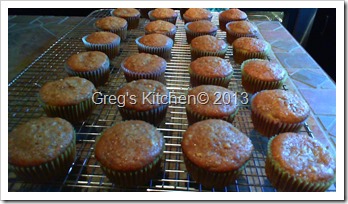 Fresh out of the oven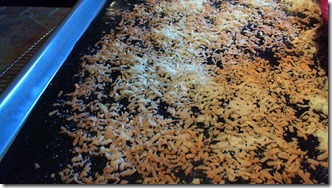 Toasting the Coconut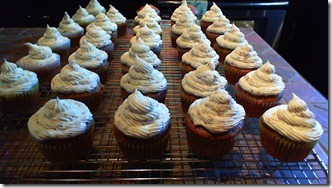 Frosted all nice and pretty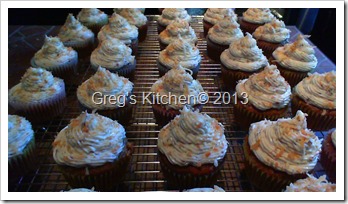 Coconut added, lets eat.
Ingredients:
3 cups all purpose flour
1 cup white sugar
1 cup brown sugar
1 and 1/2 teaspoons salt
1 teaspoon baking soda
1 teaspoon cinnamon
1 teaspoon allspice
3 eggs, well beaten
3/4 cup vegetable oil
1/4 cup applesauce
2 teaspoons vanilla extract
1  8 oz. can crushed pineapple, do not drain
1 cup chopped pecans for batter
5 large bananas, chopped or mashed
32 oz. cream cheese, softened
2 sticks butter, softened to room temp.
1 box confectioners sugar
2 cups toasted coconut , divided
1 cup crushed pecans for frosting
Directions:
Preheat the oven to 350 degrees and line your cupcake pan with liners.
Sift flour, white and brown sugars, salt, baking soda, cinnamon and allspice  together in a mixing bowl.
Add eggs, applesauce and vegetable oil to the dry ingredients and stir with a wooden spoon until moistened.
Stir in 1 teaspoon vanilla, pineapple and pecans, and then stir in the bananas.
Fill the cupcake tins to about 2/3 – 3/4 full and bake for 25-28 minutes or until a tooth pick inserted in the center comes out clean. Be careful not to over bake as the cake should be moist.
Cool in pans for ten minutes and then turn out the cupcakes onto a cooling rack. Allow them to cool completely (or better yet, freeze them for a day or two which intensifies that flavors) before frosting them with the cream cheese frosting.
For the cream cheese frosting, combine the cream cheese and the butter until smooth, then add the box of powdered sugar and crushed pecans  and beat with an electric mixer until light and fluffy. Stir in the remaining teaspoon of vanilla.
Frost the tops . Decorate with the toasted coconut, and eat till you can't eat no more.  ( I added some miniature pansy blooms.  I had them in the garden and thought they'd add some beauty)
5,022 total views, 0 views today

You may like these recipes too: