Grilled Peach White Balsamic Pork Chops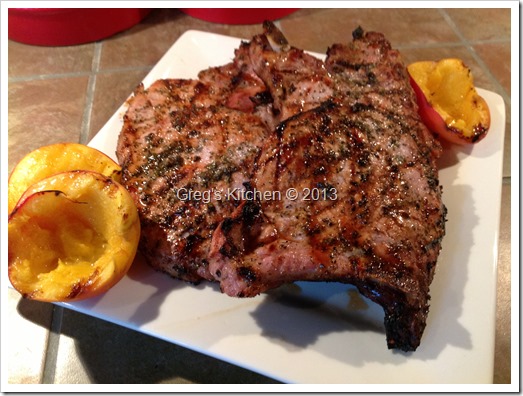 Y'all, this Memorial Day weekend is when we all dust off the grills for the official start of summer cookouts.  I would though like y'all to remember and thank all those who have died fighting for our freedom, whom we are remembering this weekend.  We can never repay their courage and bravery in protecting our freedoms.  God Bless those who fought and sacrificed their lives and those who continue to risk theirs protecting our great nation.
So now on to one of my grilled meals this weekend.  I stopped Friday after work at my favorite Olive Oil Store to find an infused vinegar or oil to try some new recipes.  Marilyn led me straight to the Peach White Balsamic Vinegar.  Peaches are one of my favorite fruits, so I knew I could come up with something, and I did.  I'm telling you, between Michael and our granddaughter Chloie, those chops were gone before anything else on our plates. 
The sweetness and acidity of the balsamic vinegar added the perfect contrast to the garlic and pepper.  Y'all really have to try these on the grill this summer. 
Ingredients:
4 bone-in pork rib chops, 1/2-3/4  inch thick
2 cloves garlic, peeled and minced
1 cup fresh basil, chopped
1/4 cup Peach White Balsamic Vinegar *
1 teaspoon coarse salt
1/2 teaspoon freshly ground black pepper
In a medium measuring cup, measure out your Peach White Balsamic Vinegar.  Add to it the garlic, basil, salt and pepper . Place pork chops in a zip top bag and add the vinegar mixture.  Seal and then mix well, rubbing the mixture over all the meat.  Let stand 15 to 30 minutes.
Preheat your grill on high.  For charcoal grill, build fire and let burn until coals are covered with white ash. Spread coals and let burn about 15 minutes, until coals are glowing. Test for medium heat by holding hand at cooking height and counting the number of seconds hand can stay in that position. Four seconds is about medium heat.
Place pork chops directly on cooking grate. Cook about 5 minutes per side, turning ONLY ONCE, until internal temperature reaches 145?F, using an instant-read thermometer inserted horizontally from the side into the center of each pork chop.
Once you remove the pork chops from grill to a clean platter, loosely cover with foil and let rest 3 minutes. 
I like to cut a few peaches and grill them also.  Once grilled and set with grill marks up, juice from the peach will gather in the hole the pit was originally in.  I pour this juice over the pork chops before covering them with the foil.  Just adds a bit more flavor as they rest.
* If you can't find the Peach White Balsamic Vinegar, you can get it directly from Joe and Sons Olive Oils online, where I purchase mine.  Click here to order it.
4,326 total views, 0 views today

You may like these recipes too: