Grilled & Seasoned Pork Chops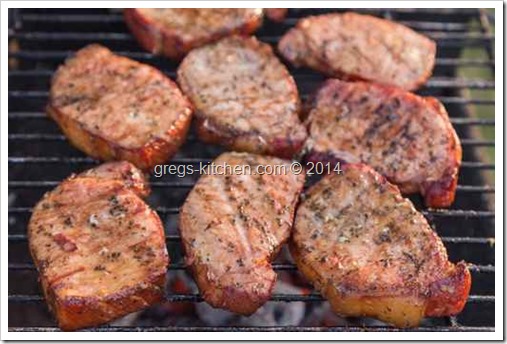 Grilling is my favorite thing about the summer.  First off you have very few dishes to clean up after dinner, plus the dag-gone amazing smell that comes from the grill.  I have literally stopped when driving down the road when I smell a grill cooking and try to figure out what is cooking.  I know.  I'm a "grill stalker", but I can't help it. 
So tonight it was time to fire up the grill and put some summer lovin into the air.  I began this all last night with the overnight marinade.  So today all I have to do is fire up the grill, add the meat (and some corn on the cob) and enjoy the smell of dinner cooking.
This is one of the easiest but most rewarding meals you can make.  Plus, easy clean up.  Let me know what y'all think.
Ingredients:
2 tablespoons paprika
2 tablespoons chili powder
1 tablespoon light brown sugar
1 tablespoon salt
1 tablespoon ground black pepper
1 tablespoon crushed red pepper
1 tablespoon cumin seeds
2 tablespoons dried thyme
First of all put the red pepper and cumin seeds in a sauté pan and heat over medium heat till you can smell the flavors releasing.  Be careful not to burn them. Remove form heat and let cool to room temperature.  Place in your spice grinder (or a zip lock bag) and crush to a fine powder (pound with a rolling pin if you use a zip lock bag).  Add the remaining ingredients to the bag (except the chops) and shake to mix.
Add the pork chops to the bag and mix/shake to cover.  Allow to "marinate" in bag over night or at least 2 hours in the refrigerator to help the flavors really get into the meat.  Once finished marinating, remove from refrigerator and allow to come to room temperature.
Grill chops over over high heat for three minutes on each side (or until browned). Move to lower heat and cook until an instant read thermometer registers 145°F and allow to rest for 3 minutes before cutting.
1,078 total views, 0 views today

You may like these recipes too: