Blackberry Ginger Balsamic Glazed Salmon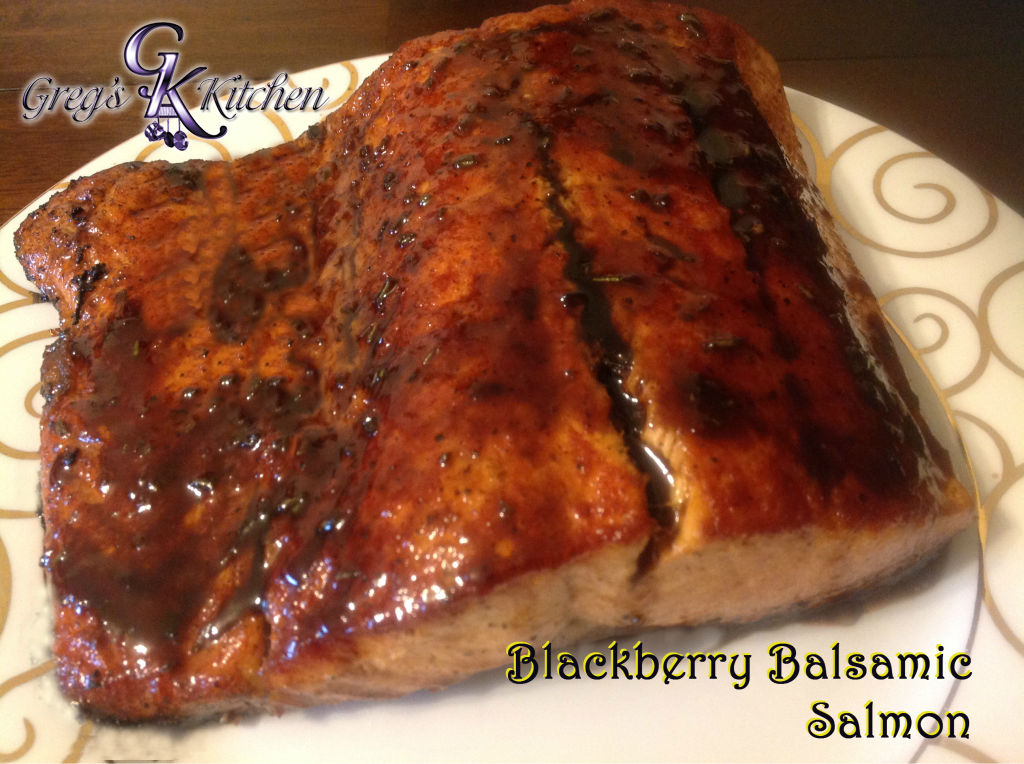 Ingredients
1/2 cup blackberry ginger balsamic vinegar ( I prefer Joe & Sons )
1/4 cup white wine (or chicken stock)
2 Tbsp honey
2 Tbsp Dijon mustard
1/2 teaspoon garlic powder
1/2 teaspoon onion powder
1 Tbsp chopped fresh rosemary
4 (6 oz) salmon fillets
Salt and freshly ground black pepper
2 tsp olive oil
Directions
Allow salmon come to room temperature.
Meanwhile, in a medium saucepan combine balsamic vinegar, white wine, honey, Dijon mustard,  rosemary garlic and onion powder.  Bring to boil over medium heat, then reduce heat and simmer over medium-low heat until sauce has reduced to about 1/3 cup.  Remove from heat and allow to cool.
Season both sides of salmon with salt and pepper. Heat a large non-stick skillet over medium-high heat and add 1 tsp of olive oil.  Add 2 salmon fillets once skillet and oil are hot (not smoking)  and cook, without moving, until salmon has nicely browned on bottom, about 3 – 5 minutes.  Do the same to the other side, cooking 3-5 minutes as well or until well browned.
Do the same with the remaining two fillets and the 2nd tsp of olive oil.  ( you can keep first two warm in a 200° F oven covered with foil)
Once all are cooked, either brush with a pastry brush with the blackberry ginger glaze (or spoon/drizzle) and serve.
16,101 total views, 0 views today

You may like these recipes too: