Sun Dried Tomato & Goat Cheese Stuffed Chicken Breasts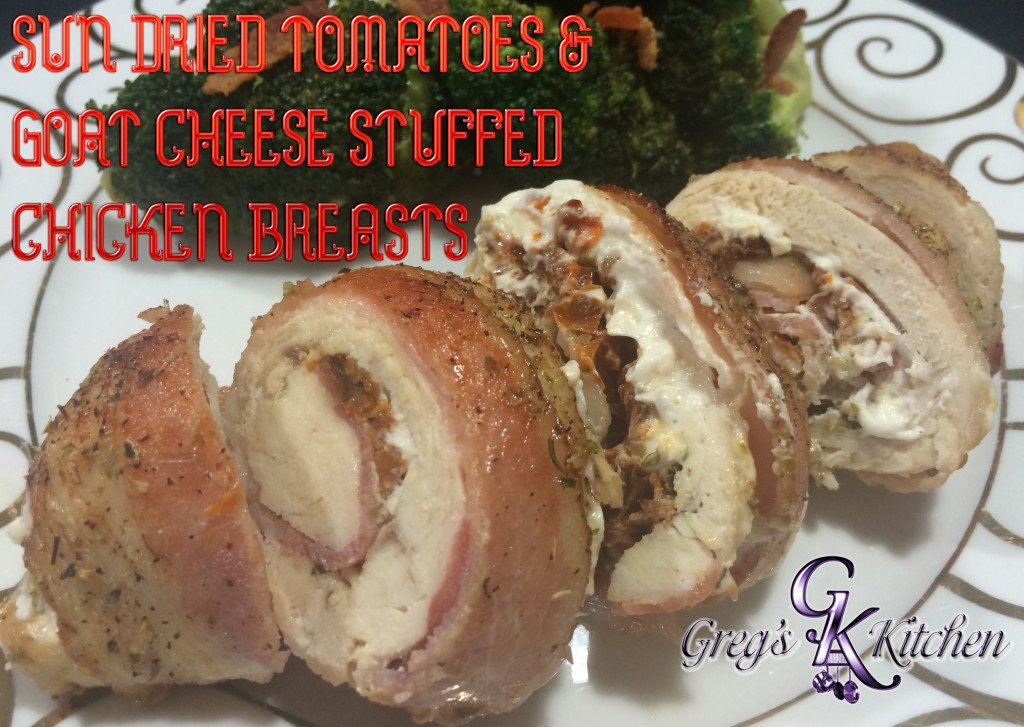 Y'all, this recipe doesn't need much explanation.  It is what it's called.  My granddaughter Chloie came up with the idea for this recipe. Then she made her pa-paw proud and decided to wrap it in BACON.  Love this child.  She then made it for us for dinner as you can clearly see by the pictures below.  I've told y'all numerous times that you need to make memories with your little ones in the kitchen.  Well, we are spending an entire summer doing just that.
So here is Chloie and her Sun Dried Tomatoes and Goat Cheese Stuffed Chicken Breasts (wrapped in BACON).
Ingredients:
4 chicken breasts (pounded flat)
2-4 ounces goat cheese
1  6-8oz. jar sun dried tomatoes
12 strips of bacon
garlic powder (to taste)
salt and pepper (to taste)
2 teaspoons dried basil
2 teaspoons dried oregano
Preheat oven to 400 degrees.
Chop your sundried tomatoes.
Lay out 3 strips of bacon on a cutting board.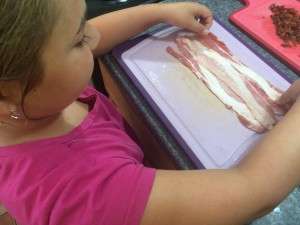 Lay the flatten chicken centered on the bacon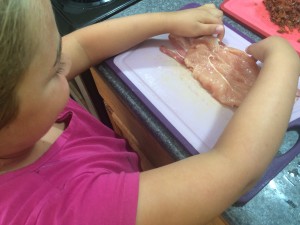 Divide the goat cheese into 4 portions and spread 1/4th over the chicken breast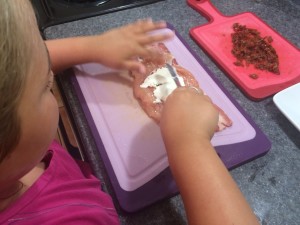 Now add 1/4th of the chopped sun dried tomatoes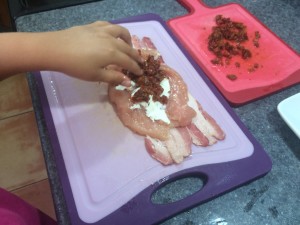 Mix the garlic powder, salt and pepper, oregano and basil and sprinkle about a teaspoon of mixture over chicken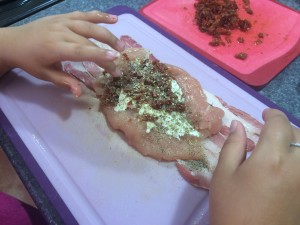 Now carefully roll the bacon/chicken into a roll and place seam side down in cast iron skillet (or baking dish)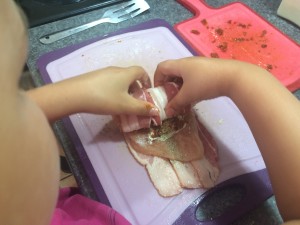 Do the same for remaining three chicken breasts and place in skillet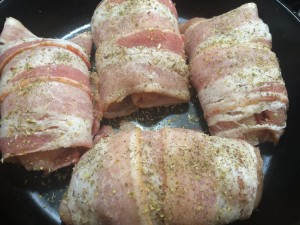 Cook in preheated oven for 20-25 minutes uncovered.  (internal temp of 165¤F)
Enjoy.
165,480 total views, 0 views today

You may like these recipes too: